Recently, the Hays County Commissioners voted to reconstitute the Parks and Open Space Advisory Committee (POSAC) to help evaluate projects and allocate the $75 million bond funding approved through Prop A in November's election.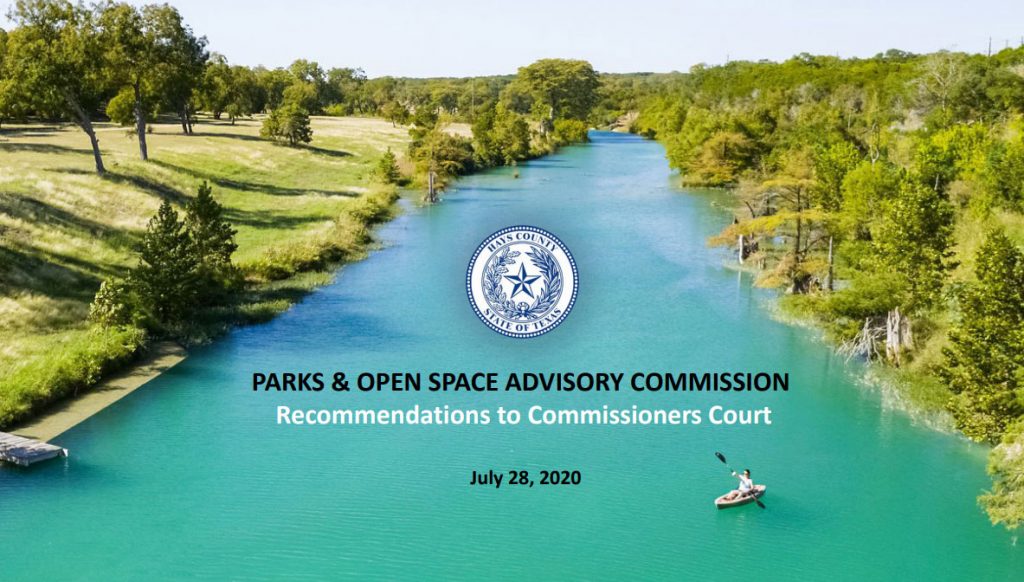 Through last year's POSAC process, the Committee reviewed and ranked 18 projects designed to increase access to nature, better protect water resources, and improve habitat.
At the January 26th Commissioner's Court meeting, the Commissioners approved reconstituting a 7-member POSAC with one member per Commissioner/Judge and two additional "at-large, highly respected members" selected with the help of chair Scott Way.
The current POSAC members and their appointing Court members are:
Blanca Loya, appointed by Comm. Ingalsbe
Kathryn Nichols, appointed by Comm. Jones
Scott Way, appointed by Comm. Shell
Scott Tomhave, appointed by Comm. Smith
Lisa Prewitt, appointed by Judge Becerra
Lori Olson, appointed by Judge Becerra, at-large, nominated by Shell
Carolyn Gonzales, appointed by Comm. Ingalsbe, at-large, nominated by Judge Becerra
Commissioners previously discussed hiring a bond manager via RFQ toward first bond sales in spring. The bond manager also will be expected to facilitate POSAC activities with heavy staff support.  Commissioner Shell noted that Alexandra Thompson has been handling POSAC administration, and indicated that the Court would get the bond RFQ going within the next month.
Useful links: