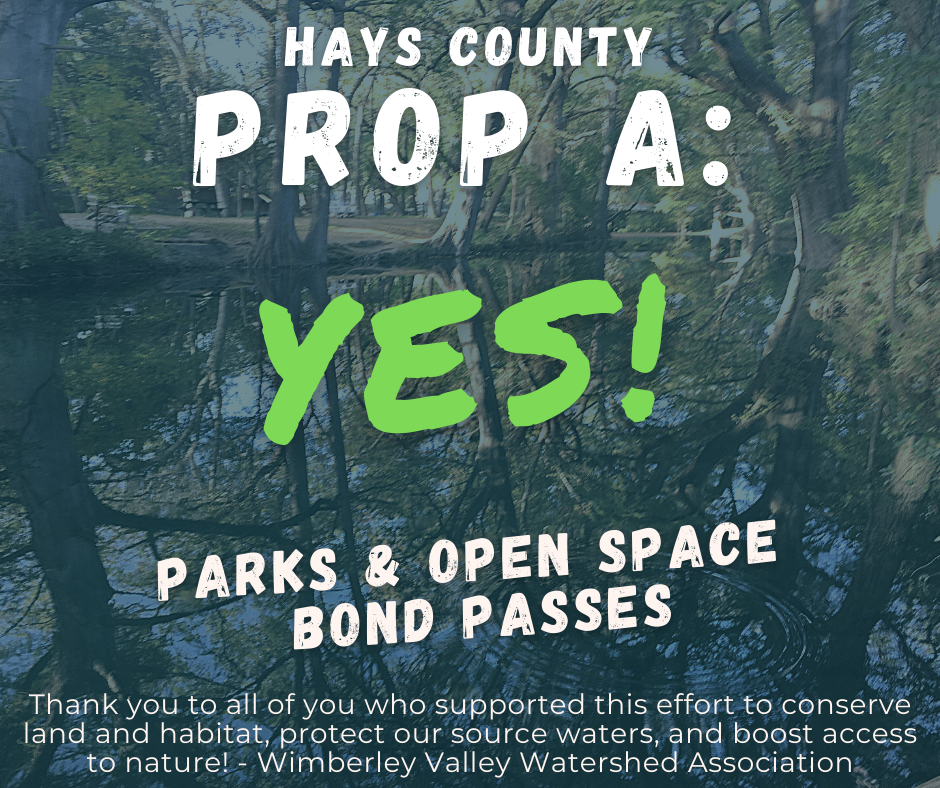 "We couldn't be more pleased with the strong support Hays County voters showed for Prop A.
This commitment to conserve land and preserve irreplaceable natural resources will serve many generations and provide for outdoor recreation and better health. WVWA is excited to share Coleman's Canyon Preserve and the Wimberley Bat Cave, working with the County to permanently set aside its critical source waters and scenic habitat for Cypress Creek and everyone who lives in or visits the Wimberley Valley.
Many thanks go to all of the partners, officials, and voters who raised their voices and cast their votes for the Hays County Parks & Open Space bond."
        – David Baker, Wimberley Valley Watershed Association Executive Director
2020 Hays County Election Results: Voters Overwhelmingly Approve $75 Million Parks Bond (KUT, 11/3/2020)
---
Hays County Residents:  Avoid the Lines Where and When To Vote (Wimberley View article, 10/8/2020)
Water and recreational opportunities are of great value in Hays County. Proposition A, Our Parks and Open Space Bond, is a chance on election day to look back without regret years from now, knowing we seized this opportunity for the future of our land and water.

We will recover from current challenges, but our opportunity cannot wait to preserve this iconic landscape, to protect our water, and to create parks, trails, and activity centers that are needed across the county. Development and escalating land values mean we have to act now.
The last parks bond in Hays County was 2007. That $30 million was multiplied by matching grants and funds, so that the impact we enjoy is even greater than promised: Jacob's Well Natural Area, Dahlstrom Ranch, Blue Hole Regional Park, Five Mile Dam Park, and over twenty public parks, sports complexes, and trails.

Then, as with a proposed $75 million now, the County will issue bonds over a decade, conscientiously, without raising our tax rate, as population and valuations grow. If the land and water could speak, they would tell us: vote yes. Look at the list of recommended projects—Coleman's Canyon Preserve (and the Wimberley Bat Cave), Sentinel Peak Preserve on the Blanco River, the Violet Crown Trail, Cape's Fishing Pond, and other important park lands across the county. They bring open space and conservation, hiking and biking, urban parks, and flood mitigation.
Our natural resources need us. Water is increasingly scarce and habitat is disappearing to the pipeline and unprecedented growth. Let's vote for the bond for our quality of life and a Hill Country we are proud to pass on to the next generation.
Learn more about proposed projects and the bond package: