Save the Hill Country
Kinder Morgan's Permian Highway Pipeline project is currently planned to cross through the Texas Hill Country and will directly impact hundreds of properties in Central Texas. This pipeline will be transporting 2.1 billion cubic feet of fracked gas on a daily basis! Along the route, the pipeline will cross rivers, creeks, karst aquifer recharge zones, the habitats of endangered species, and will come into very close proximity to some of our beloved springs, including Jacob's Well.
The WVWA and TESPA are partnering to pursue legal action against PHP and Kinder Morgan and to work together more generally for protection of groundwater throughout the karst geological region of Texas. Well­‐known trial attorney Jeff Mundy will head up the legal team for TESPA and WVWA with legal assistance from Houston attorney Jim Blackburn, TESPA board president.
Attorneys issued a notice of intent to sue the Permian Highway Pipeline LLC (PHP) and its managing partner, Kinder Morgan, for contamination of an underground source of drinking water as a result of PHP construction operations in Blanco County on March 28, 2020.
The Notice Letter identifies four federal environmental laws that may have been violated by the contamination of an aquifer that is the sole source of drinking water for rural residents. Among the allegations are:
Violating the Safe Drinking Water Act by injecting fluids into an underground source of drinking water
Creating an imminent and substantial endangerment to the public under the Resource Conservation and Recovery Act
Discharging pollutants in violation of the nationwide permit #12 issued by the U.S. Army Corps of Engineers
Discharging pollutants into waters of the United States without a permit.
All of these acts have citizen suit provisions but require advance notice of intent to sue in order to establish jurisdiction in the federal court system.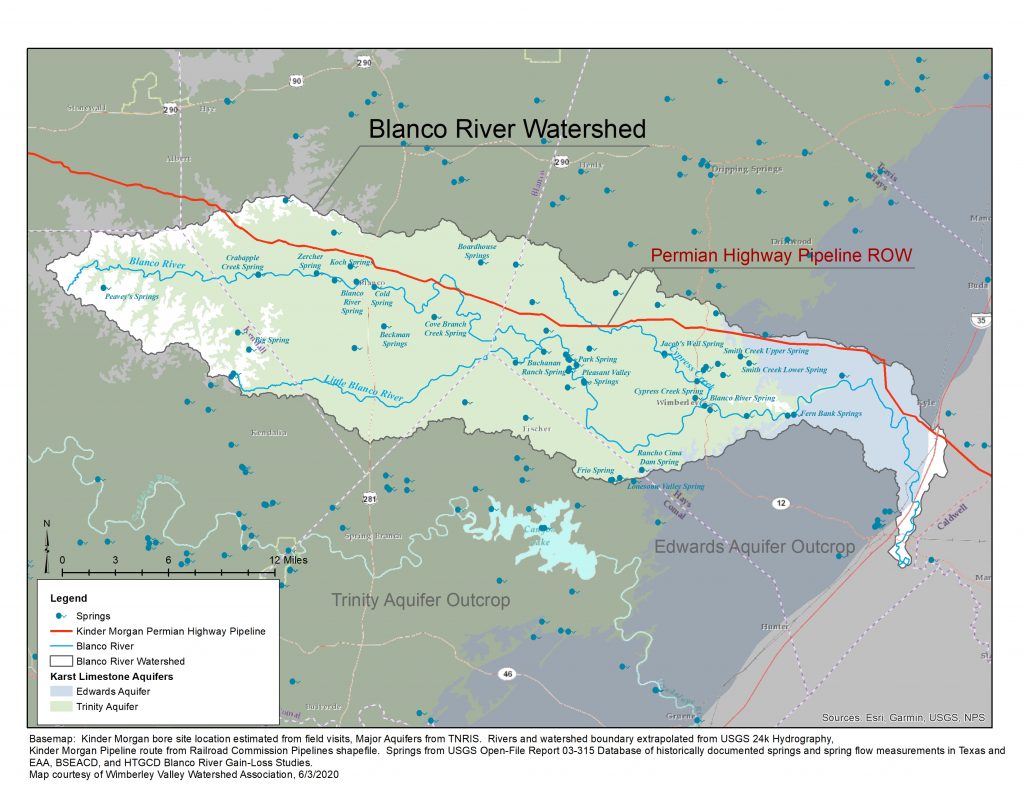 According to David Baker, executive director of WVWA, "When Kinder Morgan announced the Permian Basin Highway back in 2018, I said it was the worst thing to ever happen to the Texas Hill Country and that even the construction would cause harm to our fragile karst aquifers. The March 28th event and the threat to sole-source drinking water is beyond what I feared most. The residents and landowners in the path of this pipeline are not going to stand down; we will continue to fight tirelessly for our precious water supply. This legal action is essential for the very essence of what we hold dear."
TESPA executive director, Patrick Cox, PhD, added, "All of us who depend on groundwater for our drinking water supply have been alarmed by the pipeline for almost two years now, but for this contamination incident to happen in the midst of the COVID-­19 pandemic and affect the only water we have to drink and bathe in — it is unconscionable. If there ever was a good time and reason to take legal action against a toxic polluter, it is now. And we have just the team to do it." 
Jim Blackburn sums up the legal case, "Kinder Morgan was granted permission to construct this pipeline, and they have violated the trust of the agencies and of the people. What we have witnessed is a worst-­‐case scenario for the people of Blanco and all Hill Country landowners and well owners in the path of Kinder Morgan's Permian Highway Pipeline. It is unsafe and unwise to continue this project through our karst region, given this huge failure, and we will work to secure such a resolution either through discussions or through litigation."
Donations to the Texas Hill Country Legal Defense Fund can be made online by clicking the "Donate" button or by check to Wimberley Valley Watershed Association, PO Box 2534, Wimberley, Tx 78676 (Please mark Tx Hill Country Defense Fund on the memo line).
Media Coverage
A must listen! Patrick Cox for TESPA and David Baker for WVWA on KOOP 91.7FM
Civil Rights & Wrongs with Kinder Morgan and PHP in the crosshairs (6 minutes, 5/26/2020)

December 2020
October 2020
August 2020
July 2020
June 2020
May 2020
April 2020
Videos

Press Releases
Useful Links
Map Gallery
Interactive map showing PHP route and karst features
Reports and Reference Documents