The Art4Water Sacred Springs Kite Exhibition at the Austin Central Library is a MUST-SEE exhibit for at least two reasons.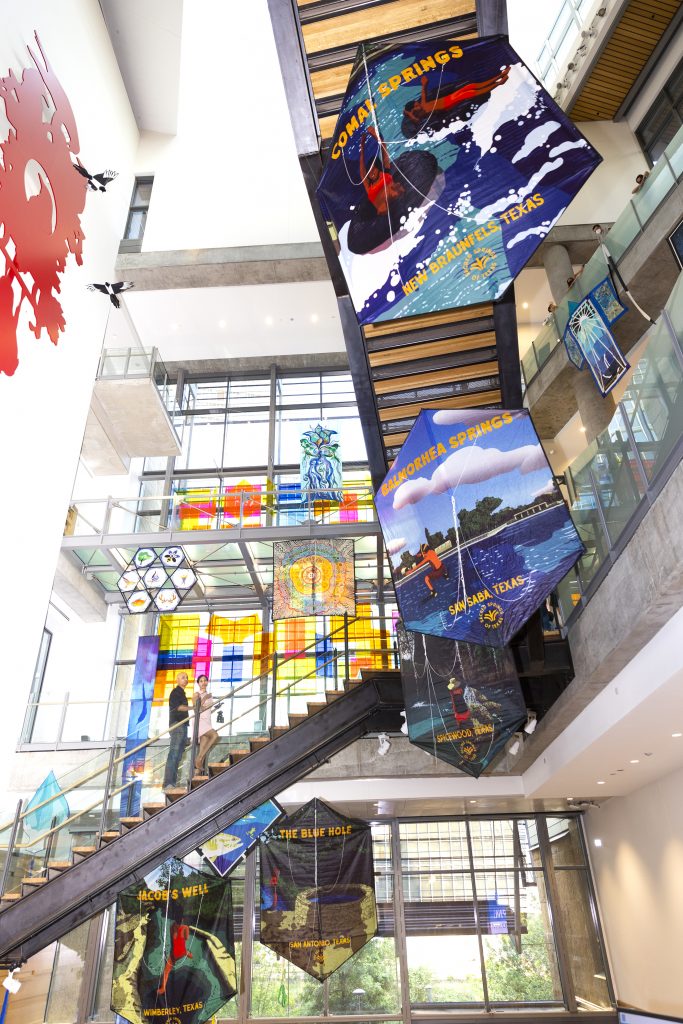 First, the Watershed's Art4Water team guided by the vision and leadership of Terry Zee Lee and Ryan Willett have collaborated with 47 incredible artists and kitemakers, for the last year to create the first exhibit of its kind and the 50 Sacred Springs Kites on display throughout the library.
Second, this is the first show of this scale to be featured in the atrium of the award-winning Austin Central Library designed by Lake Flato Architects. The Austin Central Library building was named by Time Magazine in 2018 on their list of the World's 100 Greatest Places and was awarded one of the highest possible green building certifications. It is the most water efficient "One Water" Platinum Leed certified building ever constructed in Austin. This building is like a spring in that it captures rainwater and ac condensate and recycles that water onsite to flush toilets and water the landscape which reduces water consumption by 90%.  We are so proud that the Sacred Springs Kite Exhibition represents both the power of Art and Water Conservation.
"Sacred Springs" recalls the reverence of indigenous people and an enduring mystical connection with the source of life. Water falls as rain from the sky, filters into the ground, and emerges later through cracks and openings to form the great river basins. Many Texans drink from the groundwater that powers these springs every time we turn on the tap. As growth and demand for water grows, many of our springs have been lost, draining more than just a piece of our history or a source of water. Water is at the heart of what makes the Hill Country such a beautiful place. Water flows quickly from aquifers to springs, to iconic creeks and rivers, then back into our aquifers and out through springs and into creeks and rivers again. We all have our part to contribute to protecting this water cycle. As the population in our region grows, we've got more challenges to face as a community. Demand for water, development, and the sources of pollution that come with it, and a changing climate can reshape what Texas looks like if we're not careful.
Artists have always served society as visionaries, translators and storytellers– they help share powerful stories and elements of the human experience that are limited by spoken language. We want to thank the Sacred Springs artists for shining their light on the beauty of water, the life that depends on it, and the treasures that make Texas proud. It's our hope that this inspiration helps fuel awareness… after all, we tend to protect what we love.
Photo credits:  Eric Schlegel
Artist Interviews
Opening Ceremony Speeches
Acknowledgments
The Sacred Springs Kite Exhibition could not have happened without Terry Zee Lee, a world-class kite-maker, artist, and teacher.  She has a long history of facilitating cutting-edge, impactful kite exhibitions that raise awareness of powerful topics.  As President of Sky Wind World, she curated the nationally-acclaimed Buffalo Project and Louis and Clark Kite Exhibitions and has shared her love of art, kites, and kite building with students across the world.  She and David Baker collaborated to bring the Sacred Springs Kite Exhibition together.
David Baker is an accomplished artist and passionate environmental steward.  While he paints in many different styles, he is well known for his detailed dot paintings.  This is also his superpower.  When he looks at the world, he sees lots of dots and naturally starts connecting them.   Environmentally, I've seen him paint a collective dream and persist at telling that story until the community is dreaming that dream, then big things happen.  He put over 100 tiny parcels back together and created the Jacob's Well Natural Area.  He encouraged scientific research and flow monitoring at Jacob's Well that recently (in 2020) lead to the creation of the groundwater management zone that helps protect groundwater availability and spring flow at the Well.
This exhibition was made possible by the sponsorship of the Austin Library and a grant from The Library Foundation.  All of the artworks were underwritten by the Harry L. Willett Foundation.  Ryan Willett deserves special thanks for his ongoing support of the Watershed Association for our work protecting springs and watersheds across the Hill Country and particularly for his insights and connecting us with Terry Zee Lee, the visionary curator, and co-creator for this exhibition.
We want to thank Austin Library Exhibit Coordinators, Jiuen Beth Kim and Sharon Herfurth, for their guidance and support in preparation for this event.  We are very grateful to the entire Austin Library staff, especially the security team for their coordination, the graphic designer Tatian Gonzalez, and communications coordinator Baylor Johnson.  Special thanks go to Arts Seen Alliance, David Russell, and all of the incredibly talented kitemakers who assisted our staff in hanging this exhibit.
This project could not have happened without the endless hours and dedication put in by Art4Water coordinators Aliya Rosenbloom and Ellen Evans for the planning and execution of all the details required to launch this exhibition and the Art4Water program for the Watershed Association.
To learn more about the sacred springs artists and kite fabricators who worked collaboratively to make these beautiful artworks inspired by water and springs, please visit the Artist and Kitemakers page and explore the unique stories of the diversity of artists that were selected from over 200 entries, the beautiful kites fabricated by master kite builders from across the country and the eight sacred springs kites created by John Mata.