Art4Water, a program of the Watershed Association, is an initiative that advocates for environmental protection through the lens of art.
Video made by Stellar Video, LLC.
 Art4Water is a educational program of the Watershed Association that highlights the intersection between art, culture, expression, policy, conservation, environmental stewardship, and education. 
Traditionally, artists have served humanity as storytellers and translators of complicated concepts that were limited by the spoken word. We are at a unique moment in human and environmental history, one that requires our innovation and collaboration to heal and rise above the degradation in both our environments and our communities. Art4Water recognizes that our own human health is deeply intertwined with our planet's health and that we must regenerate our own spirits simultaneously with the regeneration of our natural environments.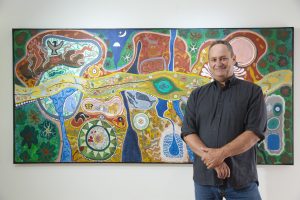 David Baker, the Executive Director of The Watershed Association, with his painting inspired by his love for Jacob's Well.
Art4Water engages and educates both the artists and the art appreciators in a way that is memorable, unique, and feeling-centric. Sharing the threats that face our planet through charts, graphs, and statistics can only influence our behavior to a point.  When we experience something, when we truly

feel

it, we are more likely to understand it, care about it, and alter our behaviors on its behalf. 
The Sacred Springs Kite Exhibition is just the beginning of Art4Water! Art4Water is working on growing our offerings to include a diverse suite of

opportunities

 to engage our

community's

artists as story tellers of our planet. 
"Art shapes culture and changes people and communities. Art tells a universally powerful story that communicates the value of water beyond words."
Art4Water's Sacred Springs Kite Exhibition
Celebrating the Great Springs of Texas
Art4Water's inaugural program, The Sacred Springs Kite Exhibition, is a collaboration between The Watershed Association, Terry Zee Lee, and 30+ national artists in the creation of water-inspired art kites. Hanging like an oasis in the sky, The Sacred Springs Kite Exhibition brings together diverse communities around the respect for Texas' great springs–their history, their value, and the threats to their existence. 
"Sacred Springs" recalls the reverence of indigenous people and an enduring mystical connection with the source of life. Water falls as rain from the sky, filters into the ground, and emerges later through cracks and openings to form the great river basins. 
Through this exhibition, the Watershed Association partners with Terry Zee Lee, a renowned facilitator, and curator of kite exhibitions, to raise awareness of the vital connection of water to life. 
The Sacred Springs Kite Exhibition was initially on display at the Austin Central Library from May 2022 – November 2022. The collection will now hang in three public buildings in San Marcos, TX from May 2023-September 2023. Sign up for our newsletter and follow @_art4water for more future events and offerings.
Meet the Artists and Kitemakers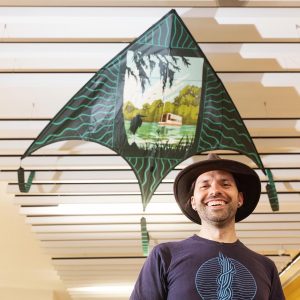 Upcoming Art4Water Events
Sacred Springs Kite Exhibition: Opening Night May 5th, 2023
Location: San Marcos Public Library (625 E Hopkins St. San Marcos, TX.)
This exhibit will be on display from May 2023 – September 2023!
We hope that this exhibit inspires you to connect to water in all its forms, and the life that springs from it and offers a refreshed commitment to preserving it.
---
The Future of Art4Water
Water creates the most magical parts of our world. This is especially true for the Hill Country. Art4Water seeks art that captures that magic and helps translate the needs of our environment in a felt way.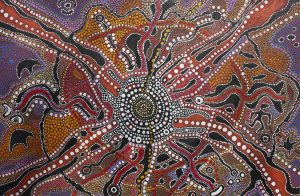 Art4Water plans to offer nature-based artist residencies, youth programming,  retreats, and unique exhibitions that turn to our community's artists as important leaders in conservation.
If you are an artist interested in participating in Art4Water, please reach out to info@art4water.com