In an effort to raise awareness of the vital connection of water to life, Art4Water partnered with Terry Zee Lee–a national facilitator of kite exhibitions, the Austin Public Library, Library Foundation, and over 30 artists to launch The Sacred Springs Kite Exhibition.
The exhibition features the work of 47 local, national, and international artists and kitemakers in the form of large art kites telling the story of Texas' natural water wonders and the threats facing them. Art4Water is a program of the Watershed Association, a nonprofit delivering education programs, conservation, and policy initiatives to ensure water quality and availability in central Texas for over thirty years. 
Photo credits:  Eric Schlegel
The Wimberley Valley Watershed Association is a 501c3 non-profit organization. In order to carry out our mission, we rely upon generous donations by people like you who care about protecting and preserving the natural beauty of the glorious valley. Your contributions are tax-deductible.

Featured Artists
Terry Zee Lee,
Billings, Montana
Austin and the Colorado River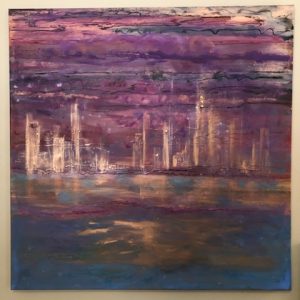 Terry is a kite educator, artist, and producer of large venue kite exhibits across the globe. She is a visionary force behind the Sacred Springs Kite Exhibition, The Lewis and Clark Exhibition, and many other renowned installations and kite events. Her kite for this exhibition is an acrylic painting that interprets Austin with its water source, the Colorado River, flowing by. Storm clouds reflect a possible future without adequate water.
Terry Zee Lee created and fabricated her kite.
David Baker Bear,
Wimberley, Texas


Founder & Executive Director of The Watershed Association & Art4Water

David has dedicated the last three decades to protecting land and water as the founder and Executive Director of the Watershed Association; using his creative energy to conserve land around Jacob's Well to protect spring flow, water quality, wildlife habitat, and connect people to nature. David has been creating art all his life, utilizing many mediums. He established Art4Water as a way to tell powerful stories that communicate the value of water beyond words and engage artists in environmental stewardship. The Sacred Springs Kite Exhibition is designed to inspire diverse artistic expression from our community and reverence for natural springs and water and motivate collective action and expanded investment for the protection of watersheds and pristine waters across Texas and beyond.
The Nameless One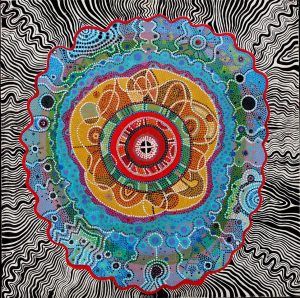 David painted the Nameless One (a portrait of Jacob's Well) immediately after seeing the Well for the first time in 1988. It is the expression of what he felt inside upon encountering the mysterious upwelling of millions of gallons of crystal-clear ice-cold water from the unknown depths of the Trinity Aquifer. David is deeply moved by the Australian Aboriginal concept of dreaming and the belief that every event leaves a record in the land. I love special places in Nature that have particular potency. This unique quality is what motivates me to create. Each mark I make is a meeting of my soul with the Sacred.
Dreaming of the Springs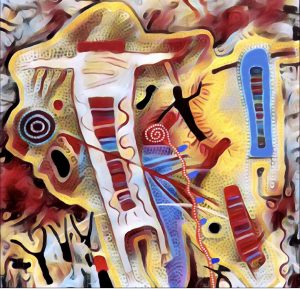 David saw a photograph of the White Shaman Panel, a 4,000-year-old rock painting on the Pecos River, in the early 1990s and was inspired to paint this interpretation from a fragment of the larger rock painting. Some of the sites on the panel include fountain springs such as Barton Springs, the springs in San Marcos, Comal Springs, and the San Antonio headwaters.
The Ancients Look On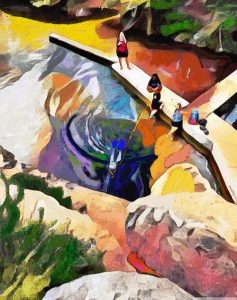 Inspired by a scene unfolding at Jacob's Well on a summer afternoon, a girl diving into the depths of Jacob's Well, a string tied around her waist, apparently so she wouldn't be lost in the abyss. Other family members look on as she dives deep into the cavern. The image is a metaphor for descending into the unknown mystery of life as loved ones hold on at the surface. The string now will hold this image as the kite rises high into the sky. The ancient guardian rocks look on.
The Home Place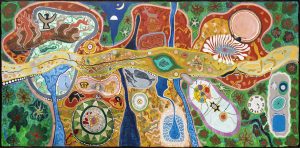 David's interpretation of the land and water surrounding and under Jacob's Well at the headwaters of Cypress Creek in Wimberley. This painting illustrates the human spirits, wildlife, trees, and plants that live and have visited Jacob's Well, the pristine waters and rocks contain the memory of all who have ever migrated through and touched this sacred site.
Kites fabricated by Stan Swenson and Jim Day of Seattle, Washington
John Mata,
Louisville, KY
8 Sacred Springs of Texas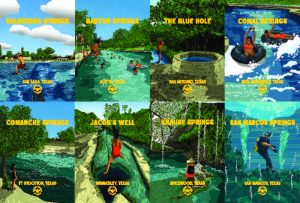 Cosmic Asada is the moniker of graphic designer and illustrator John Mata. Mata's work focuses on navigating the surreal spaces of everyday life to the soft realities influenced by popular culture. Mata is a native of San Antonio and was commissioned by Art4Water to create this 8-part series highlighting the sacred springs of Texas.
John Mata's kites were fabricated by Drake Smith of Billings, Montana
Selected Artists
Ron Gibian,
Visalia, California
Texas Dawn & Serenity & Reshuanne River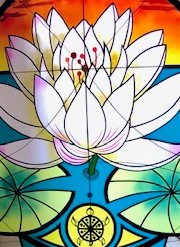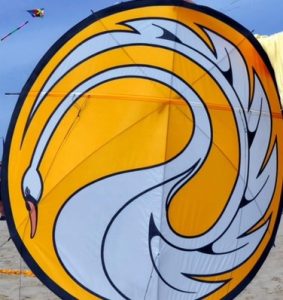 Ron Gibian has found inspiration for his kites and aerial sculptures in nature. Whether it be insects, birds or fish have been sources of inspiration in his single-surface kites as well as his more complicated three-dimensional objects. "What I want to do in the sky is to create inspiring visual images," said Ron. "I want to inspire, excite, and provoke those who are looking at what I have done to confront their own sensibilities so that they can see the sky and the world in a new more open way." Ron Gibian has been making works of art that fly for over 30 years. His creations have won over 300 awards on five continents.
"Texas Dawn" illustrates The State of Texas's official waterlily, found in the Sacred Springs, and interpreted in vivid colors and a unique shape by applique master Gibian. "Serenity" features a swan in a charming round. "At Peace on the Water" features a canoe, timber, fish, and sun are all part of this kite-honoring water recreation that Texans enjoy so much.
Rob Gibian created and fabricated his kites.
Nanya Aku-Ki Sanders – NAS,
Houston, Texas
Water 4 The World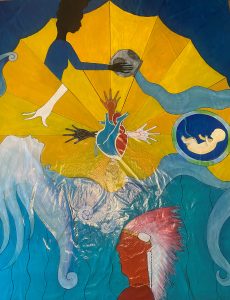 N'anya is from the 3rd ward in Houston. Art and the expression of feeling through art have always been something she has been passionate about, especially since she was a quiet kid. She believes it's important for people to be able to express themselves in some form, rather than through literary, performing, or visual arts. Nanya's inspiration for this piece was her love for water and its many uses. Using diverse backgrounds she shows the various ways water connects us, regardless of our different identities.
Kite fabricated by Sam King of Anacortes, Washington
Christian Baden Powell,
Marble Falls, Texas
Saving the Last Drop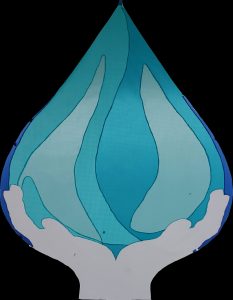 Since the late 20th century, Christian Baden Powell has been an international, award-winning British kite craftsman passionate about appliquéing and building unique kites. He spent over 30+ years in Germany and most recently resides in the Texas Hill Country. He is delighted to be involved in The Sacred Springs Kite Exhibition and has created Saving the Last Drop. The Rokkaku kite reflects the dire importance of water conservation. "Every drop of water is precious."
Christian Baden Powell created and fabricated his kite.
Ron Bohart,
Portland, Oregon
Sacred Springs of Texas-Water is Life & Comanche Spirit Rising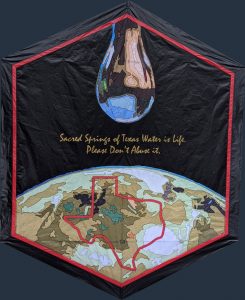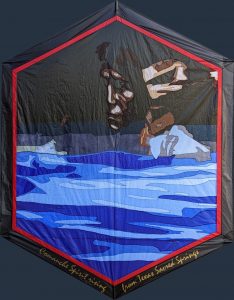 Ron is an accomplished and award-winning watercolor painter and portrait artist. His love of building kites started when he built stunt kites for family members as Christmas presents. His kite design, ability, and interest in appliqué made for a perfect transition into unique large heavily appliquéd soft kites. His portrait of Rokkaku kites is well-known all over the world.
Ron's works are very stable flying kites and fly in winds from 3 to 22 mph.
This allows his beautiful kites to fly while others are grounded because of little or too much wind. They are so well-behaved that he flies 3 to 5 large kites at the same time.
When he is on the beach it looks like a festival… even when he flies alone. Ron is a frequent celebrity guest flier at international kite festivals. Ron appliqued two exquisite Rokkaku kites with images reflecting the importance of water to all life, past, present, and future.
Ron Bohart created and fabricated his kites.
Jon and Karen Burkhardt,
Potomac, Maryland
The Life Needs Water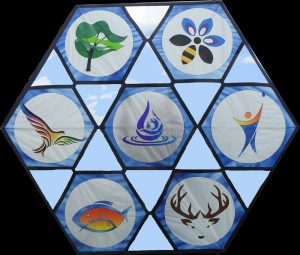 Jon and Karen Burkhardt are recent winners of the American Kitefliers Association's Grand National Kitemakers Competition, they created the Life Needs Water kite, a Seven Sisters kite, to honor the Sacred Springs of Texas Hill Country. The kite represents the relationships of the living elements of the Wimberley Watershed and gives the message that life cannot exist without water.
The center panel graphically represents water itself; the 6 exterior hexagons represent the birds, fish, animals, humans, bees, and trees that depend on the springs and creeks, and the 35-foot tail depicts the flow of water. The circular design within each hexagon represents Jacob's Well and the ripples created by a drop falling into the water.
Jon and Karen Burkhardt created and fabricated their kite.
Jim Day & Cat Gabrel,
Seattle, Washington
Two Magpies

A kitemaking team with a love for kites, Jim Day is a boat builder and cabinet maker by trade and has been collaborating with his partner Cat Gabrel to build exceptional flying artworks for decades. Cat owns a small kite shop in Oklahoma, where she makes and sells kite-making kits. She has been making and sharing the joyful experience of flying kites all her life.kitekits.com
Kathy Goodwind,
Seattle, Washington
Down To The Last Drop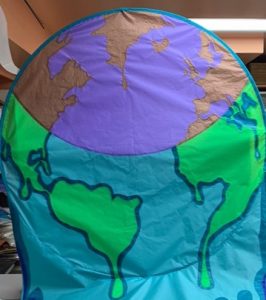 Kathy chose the Dragon format for her version of the conservation of water, choosing to depict the head of the dragon as the world globe and the flowing tail pulling water drops from the world. At the very end of the tail, there is the last drop of water indicating there is still time to do something.
Two new techniques were used on this kite: dying fabric and using acrylic paint to highlight what the world will look like when all the water is drained from the earth–a barren wasteland if we don't do something to save or reuse water. 49% of Indigenous people do not have access to running water. Kathy collaborates on the kite fabrication with her son, Todd Hostetter.
Kathy Goodwind created and fabricated her kite.
Adam Grow,
Hollidaysburg, Pennsylvania
Hovering Crows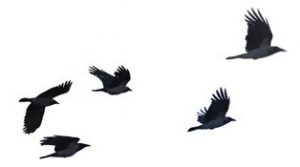 Dr. Adam Grow, DVM is a retired public health veterinarian and has been involved with kiting for 30+ years. Adam served on the AKA board of directors and as AKA President in 2000 and participated in the Billings, MT millennial kite exhibit in 2000 and the Lewis & Clark kite exhibit.
Adam Grow created and fabricated his kites.
Chrys Grummert,
Wimberley, Texas
Water Cycle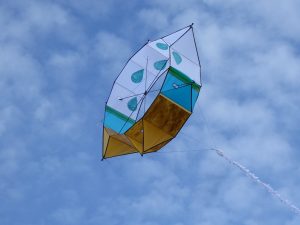 Chrys' kite is an inspirational representation of the water cycle. Water is represented by the aqua-colored sections, including the water drops that move up into the clouds by evaporation, and then rains back down to Earth represented in brown, gold, and green. This rainwater filters its way through the karst features we have here in the Hill Country to replenish the aquifers we depend on. Air brings the connection to kites, of evaporation, clouds, and rainfall. Each of those elements helps to purify water in its process through its cycle.
Kite fabricated by Chris Hanson of Bellingham, Washington
Scott Hampton, Sandy, Utah


Jacob's Well Shaman & Karst Shaman & Sacred Springs Shaman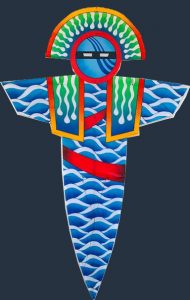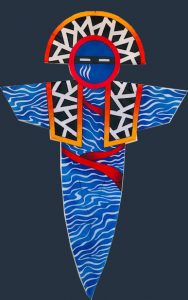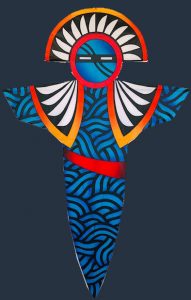 Scott has been providing the kite world with his unique art style for many years. His banners and kites are distinctive with their bright colors and original graphics. He has become an expert in the use of Design Master Paints on ripstop nylon which allows him to make full use of color gradients. He is always willing to share his techniques with others. When traveling abroad to festivals he is fully committed to his display presentation and always ready to answer questions about his work. Scott Hampton created and fabricated his kites.
Storie Hawkins,
Houston, Texas
Water Meditation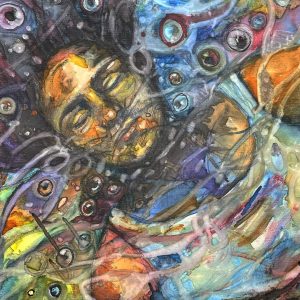 After attending the Glassel and University of North Texas, Storie Hawkins worked as an art instructor and exhibit director for the Children's Prison Arts Project to serve youth in Harris County Juvenile Facilities. Currently, she does freelance graphic design and private commission projects for small businesses in the Houston area. "Water Meditation" depicts the physical and psychological benefits water provides us as human beings. The water surrounding the human body is reminiscent of a fetus in amniotic fluid or the first organisms floating in primordial pools. It is a necessary force for life and a comforting origin for all living beings.
Kite fabricated by Mitch Cordover of St. Louis, Missouri
Tiffany Heng Hui Lee,
Sugar Land, Texas
Fragments of Spring Water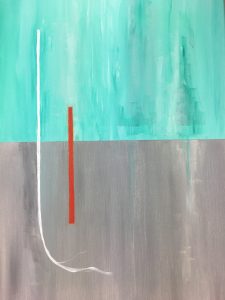 As someone who treasures natural landscapes, Tiffany uses colors, lines, and shapes to create abstract, mixed-media collages that reflect topographical views of landscapes, which are themselves delicate and easily fragmented. Tiffany's piece is an abstract representation of artesian spring water, flowing through the Texas hill country for all to enjoy. As a visual artist, as well as a registered interior designer, Tiffany uses design/art to promote the protection and preservation of nature.
Kite fabricated by Ron Bohart of Portland, Oregon
Leslie Kell,
Manchaca, Texas
We Blink in the Brightness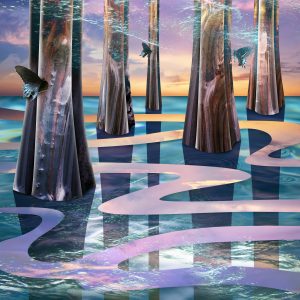 Leslie Kell's artwork is created using an original technique that synthesizes the artistry of design and photography. She works with natural forms to create surreal environments in which her photos are assembled into the spaces and patterns of her drawings. She uses recurring themes of water, light, and reflection to create shimmering images that celebrate beauty and honor the fragility of our environment. "We Blink in the Brightness" explores individuality as it relates to the larger community. The artwork illuminates our place in the natural world and symbolizes how our unique light can affect those around us.
Kite fabricated by Joel Scholtz of Kingsland, Texas
Carolyn Kilday,
Austin, Texas
Blue Hole
​​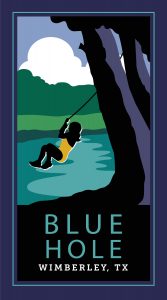 Carolyn Kilday has worked professionally as a graphic designer, art director, illustrator, and design teacher for over thirty years. She has a passion for design and teaching and loves sharing this love of communication design with her students. Carolyn loves swimming in natural swimming holes around Texas and Cypress Creek's Blue Hole in Wimberley is one of her favorites. This piece is inspired by watching kids jump from rope swings into the cool waters of this magical place.
Kite fabricated by Stan Swenson and Jim Day of Seattle, Washington
Alexa King,
Mount Vernon, Washington
Above and Below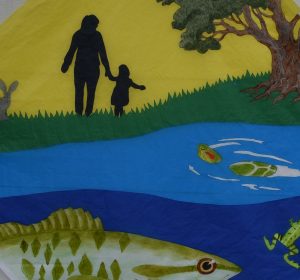 Alexa's kite is a Square Diamond Edo Kite. It was painted onto ripstop nylon using the artist's acrylic paints and appliqued onto the background. The kite depicts a child and the natural world above and below her. Alexa wanted to emphasize how everything living thing is dependent on water, representing the flora and fauna living above and below the waterline.
Alexa King created and fabricated her kite.
Ripley La Rue,
Austin, Texas
Water Bearer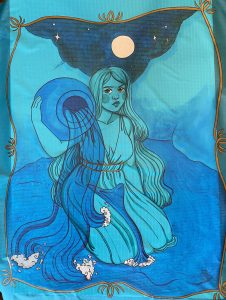 Ripley La Rue is a young illustrator currently studying studio art at Austin Community College, having previously worked with the youth muralist collective Color Squad. Her work explores ideas of femininity, romance, and self-reflection. "The Water Bearer" is inspired by the astrological sign Aquarius. The woman holding the vase has an intense gaze, judging those who mistreat the water she protects.
Kite fabricated by Stan Swenson and Jim Day of Seattle, Washington
Claudia Maysen,
Keller, Texas
Jacob's Well: Earth, Water, & Sky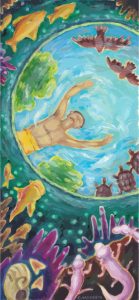 Claudia Maysen is a Mexican American artist painting and creating 3D objects from her studio in North Texas. Her work is influenced by her experience as an architect and her appreciation for fine arts. Often inspired by people, Claudia likes her creations to positively impact viewers by stirring up an emotion or raising awareness towards a topic.
"Jacob's Well: Earth, Water, & Sky" is a vertical view as if she were submerged in Jacob's Well, allowing her to show the connection that this underwater wonder has with the history that made us, the world that surrounds us, and the future that we can shape today.
Kite fabricated by Steve Anderson of Wheaton, Illinois
Veronica Mestre,
San Marcos, Texas
Heart of the Springs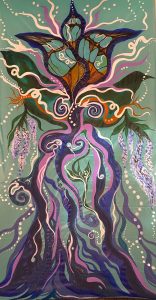 Through her own journey of healing and working with children in schools and shelter homes, Veronica's appreciation deepened for the magic that creativity brings to the soul. Veronica's art symbolizes the interconnectedness we all share as living beings and the inevitable transformations we experience in our lifetimes. Beneath the rocks and soil, life emerges with the strength in what had remained behind. In all its grace, eternal life nourishes, and whispered harmonious truths arise from the deepest depths of its intuitive roots. Luminous. Abundant. Beautiful life.
Kite fabricated by Jerimy Colbert of Lincoln City, Oregon
Summer Nielson,
Austin, Texas
Flow

Summer is currently a junior at Vandegrift High School. She loves experimenting with multiple artistic mediums, including digital art, traditional painting, and animation. Her goal is to become a videogame designer. Her digital piece represents the flow of rivers across Texas. The bands of color across the kite are representative of the different regions and environments of our state, each sustained by the uniting force of water. After being selected, Summer painted her digital piece onto nylon using acrylic paints and textile mediums.
Kite fabricated by Dr. Adam Grow of Hollidaysburg, Pennsylvania
Dayann Pazmino,
Austin, Texas
I saw myself in a Water Hyacinth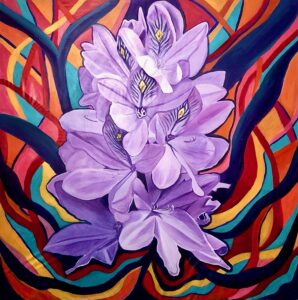 In their painting "I Saw Myself in the Water Hyacinth" they explore the relationship between self and physical landscape and how they experience a disconnect due to being a first-generation American. They saw themselves in the Water Hyacinth, a plant that comes from the Amazon and now resides in the San Marcos River.
They proposed painting the Water Hyacinth because it brings up controversial perspectives on the ethics of biology and the ethics of man. "Although I understand the reason why environmentalists want to get rid of it, Dayann says, there are some perspectives that should be analyzed more deeply and compared to why we think foreigners should also be removed from the US despite their beauty and assimilation into our communities."
The beauty of the Water Hyacinth reminds us that beauty comes from diverse places, and it is our duty to conserve our dynamic environment."
I Saw Myself in The Water Hyacinth
I Saw Myself in The Water Hyacinth
When I saw you the first time I didn't realize you were not supposed to be here.
I just saw your beauty I was captivated, by your lavender petals and dreamy complexion When I realized you were invasive my perception of you shifted. I felt ashamed for loving your presence.
Considered a threat to nearby wildlife, now there are whole attempts to eradicate you. Meanwhile, you were brought here by colonizers, that fetishized the exotic beauty of Latin America
You were brought from the Amazon without the thought about potential impacts to the environment. Just as I came here without a choice, but a mere decision of my family to have a better life.
Who gets to decide which life is better than the other? Native or not native.
They were brought by force, but now they too are part of the landscape, they fought to survive to be where they are now.
Biology, it doesn't get to speak in the ethics of man, it doesn't get to decide whether it should be eradicated or not. But it decided to thrive.
Humans are fixated on their ideas of what used to be there and not how we can live in harmony. For some reason, humans decided to bring this life to the US and that is the reason the water hyacinth exists in the San Marcos River today.
Why do we care about when one type of life is displaced while another is not?
A life is a life.
I too am from the Amazon, do I not belong in Texas? I choose to be here, while politicians constantly decide that I do not deserve to be here because of the fear of competition, and the idea that we are taking resources from "Natives"…
But just like the hyacinth, I am beautiful, I am complex. The world will try to take me down, destroy people like me. But still I exist.
We live in a new world… We don't live in an ecosystem that is stagnant; it is constantly in flux.
In fact if we followed this logic that only the natives should get to live in the US then perhaps all white folxs should be eradicated from the Americas too… but that will never be the case. They exist on native lands and now are trying to decide who belongs on this land and who does not. It's laughable…I see myself in the water hyacinth
They have been in our waters for hundreds of years now, when will they be seen as part of us instead of being seen as "invasive"?
They stand with us, and perhaps potentially not against us, but adapting to a new environment
Texas is dynamic, and evolving, our climate will never be the same.
Art4Water San Marcos Kite Exhibit
Jim Day & Stan Swanson fabricated their kite.
Rene Perez,
San Marcos, Texas
Guardians of the Springs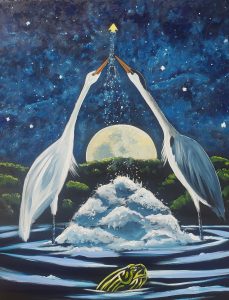 Rene is a self-taught artist, living and working in San Marcos, Texas. Most, if not all, of Rene's work, is derived and inspired by the city and river that he loves. This kite pays homage to the Coahuiltecan Creation Story. According to the story, man emerged from the San Marcos Springs many many moons ago, making this location the most sacred of all the springs.
Kite fabricated by Cliff and Gerry Pennell of Olympia, Washington
Christy Pohler,
Canyon Lake, Texas
Lady Bird's Legacy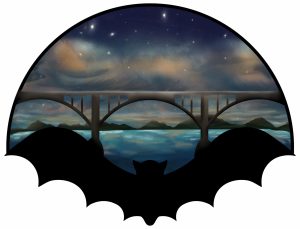 Christy Pohler, a Texas artist, photographer, and surface pattern designer is influenced by her passion for infusing mid-century design with Texas Rustic and Folk Art. Closing her portrait studio in 2020, she transitioned her work, as an award-winning photographer to digital design. "Lady Bird's Legacy" was inspired by Christy's time as a SXSW photographer. Spending hours on assignment she discovered Austin is so much more than just the people and bats that visit the area. Austin works tirelessly to maintain balance and reduce the human impact that the city brings to this state treasure.
Kite fabricated by Drake Smith of Billings, Montana
John Pollock,
Billings, Montana
Water is Life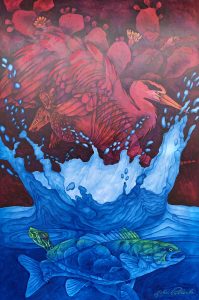 John Pollock has combined painting and kite-making into flying artworks. He is an Emeritus Professor of Art at Montana State University-Billings. In 2004, 2007, 2009, and in 2016 he received the Grand National Champion Kitemakers Award at the American Kitefliers Association Convention. In 2009, he was also awarded the Lee Toy Award. His kite features a turtle, an armadillo, a fish, a heron, a dragonfly, a cactus, and a stunning image of water…all parts of Texas that are completely water dependent.
John Pollock created and fabricated his kite.
Jose Sainz,
San Diego, California
Blue Heron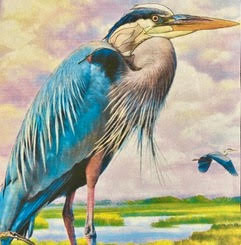 Jose Sainz's 8-foot high kite represents the lifelong connection of the beautiful "Blue Heron" survival in the sacred waterways of Texas. The kite is a traditional six-sided Japanese kite; the kite sail is handsewn and the fabric is vintage Nylon Ripstop from Betty Street and Bill Luckhart: Two legendary Texas fabric artists. The fabric has been air-brushed with paint to create texture and density in the image.
Jose Sainz created and fabricated his kite.
Bonita "Bonnie" Saucedo,
San Antonio, Texas
Earth Meets Sky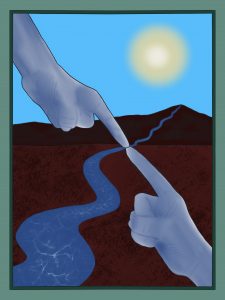 Bonita "Bonnie" Saucedo has taught English Language Arts and Visual Arts in public schools for over ten years. She specializes in graphite/charcoal sketching and costume design. Bonnie is always inspired by the beauty of her hometown and the fascinating confluence of culture found across Texas. Bonnie wanted to create a piece where a moving body of water touched an endless sky while a pair of hands intersect the river and landscape. "We are at a crossroads. Human activity is affecting the environmental world, and the time for change is now."
Kite fabricated by Ron Bohart from Portland, Oregon
Joel Scholz,
Kingsland, Texas
Ichabod Crane Kites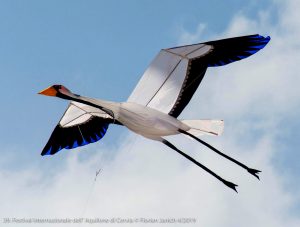 Joel Scholz is an internationally known kite artist, perhaps best known for his many varieties of kite genres. He has been producing kites for 36 years under the trade name Sky Delight Kites. His Ichabod Crane Kites is a 3-dimensional representation of the endangered Whooping Crane. The dimensions have a wingspan of 11 feet 8 inches by 8 feet 7″ tall
Joel Scholz created and fabricated his kites.
Topher Sipes,
Garland, Texas


San Marcos Springs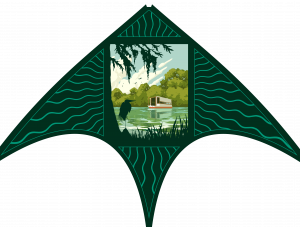 Topher Sipes is a Virtual Reality Art Director, Illustrator, Designer & Performance Artist. Combining analog and digital media, he's worked with Google, AT&T, SmartCar, L'Oreal, and the Houston Symphony, and has studied with the Flow Genome Project. The artwork depicts a Glass Bottom boat giving a tour of Spring Lake surrounded by abundant biodiversity, a heron, cypress tree, and Texas hill country at the Meadows Center for Water & the Environment in San Marcos, TX, where Topher once worked.
Kite fabricated by Hunter Brown of Wilmington, North Carolina
Scott Skinner,
Black Forest, Colorado
Fracking Dragons, Oil and Water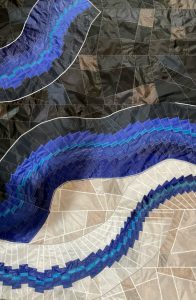 Scott has used geometric patchwork techniques, exclusively for the last 35 years. Here he uses two time-saving techniques – the Bargello and the Crazy 9-piece – to bring imaginary dragons to life. The image is reminiscent of the Japanese dragon ukiyo-e in which the dragon is never fully visible and flying in a roiling, dramatic sky. Here the two dragons are, perhaps, flying below the earth's surface, wrestling for control of the water table, the water supply, and future sustainability. The shape is an American Barn Door, appropriate for this Eastern imagery in its Texas context.
Scott Skinner created and fabricated his kite.
Lisa McPike Smith,
San Marcos, Texas
The Path to Water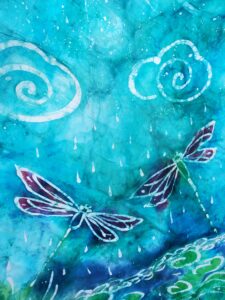 Lisa McPike Smith has lived in San Marcos several different times since she was a baby. She keeps coming back to her favorite town, for its community and the magical river that connects all of us. She speaks about being on the river in a kayak and looking up to witness at least 100 Odanata above, in all the colors of the rainbow! She has been adding dragonflies to her artwork for over 40 years because she's always been drawn to their unusual flight patterns, colorful iridescence, and the fact that they are descendants of the griffin fly from 325 million years ago. Lastly, she is inspired by the dragonfly because when you see them, it means there is water nearby.
Jim Day & Stan Swanson fabricated her kite.
Jim Day & Stan Swanson fabricated her kite.
Betty Street,
Lubbock, Texas
Butterflies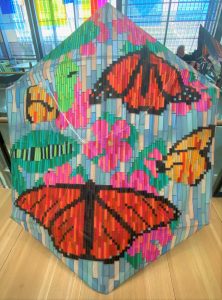 Betty brings a lifetime of experience to her skilled kite-making. An art professor at Texas Tech University, she taught textile design and was influenced by silkscreen, batik, appliqué, and, ultimately, American patchwork ideas and techniques. Her intricately pieced butterfly rokkaku is a unique interpretation of the subject, finished and brought to the exhibit by artist, Jose Sainz.
Ava Tran,
Tomball, Texas
Oglala's Sea of Mni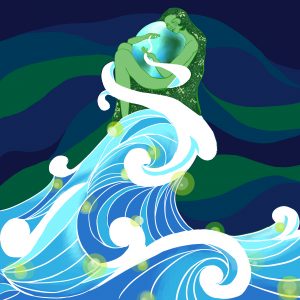 Ava Tran is a freshman at UT Austin studying business and has loved art from a young age. "Oglala's Sea of Mni" is meant to capture themes of innocence and youth. Using bold lines and bright colors, the swirling waves and serene face of the woman create a fantastical atmosphere. When reading about the Lakota perception of water, or mni, as "a shining mirror to the universe" or, in Tiokasin Ghosthorse's phrasing "a cup of the stars", Ava was struck by the elegance of the interpretation and attempted to capture that awe and simple beauty of nature into this work.
Kite fabricated by Ron Bohart of Portland, Oregon
Bindu Viswanathan,
Austin, Texas


The Springs of Life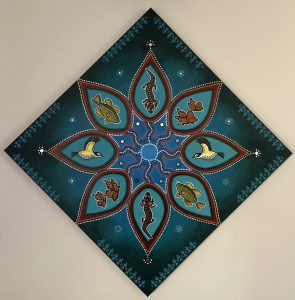 Bindu specializes in painting, photography, and gourd craft. She enjoys using bright colors and symmetry to create vibrant and rich designs in ornamental detail, drawing inspiration from nature, wildlife, and indigenous art from around the world. "The Springs of Life," captures the emerald-blue waters of Jacob's Well and the perennial, life-giving springs that nourish it. Wave-like dotted lines depict underground aquifers that replenish the spring, drawing inspiration from the art of indigenous cultures. The water here sustains a broad spectrum of life forms, (such as the Black-capped Vireo, Fern Bank salamander, and Guadalupe bass), and creates a migration passage for the Monarch butterfly. These species are cradled in raindrop-shaped patterns symbolizing a healthy, rejuvenating water cycle. The border depicts humans, including organizations like the Wimberley Watershed Association, as conservation stewards.
Kite fabricated by Hunter Brown of Wilmington, North Carolina
David Wagner,
Santa Fe, New Mexico
Magic of Water & Secret of Water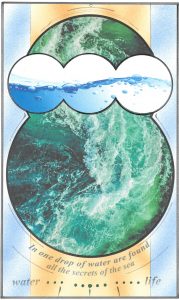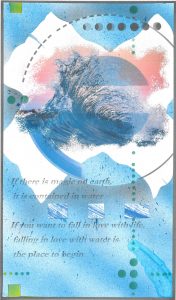 David is a public artist in the American Southwest. He often works in aerial mediums, with pieces that are capable of flight. David's kites are 54" x 92" based on the Edo kite planform Ripstop polyester with dye sublimation printing, and carbon fiber spars.
David Wagner created and fabricated his kites
Juliet Whitsett,
Austin, Texas
The Barton Springs Salamander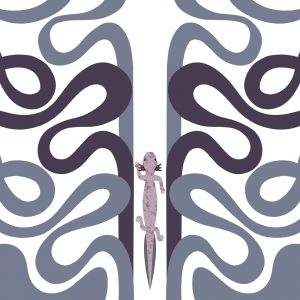 Artist, Art Educator & Environmental Educator, Juliet Whitsett is interested in the intersection of community and creativity. Her series, Threatened Texas showcases the ART & PALETTES of our beautiful world. With roughly ~150 threatened + ~ and 75 endangered species in Texas alone, Whitsett offers viewers encounters with biodiversity through her artistic representation of our rarest and most at risk. "The Barton Springs Salamander" is endemic to the Edwards Aquifer region. For this kite, Whitsett sampled colors from images of the endangered Texas salamander. Utilizing this limited palette, she created original art inspired by its life and form.
Kite fabricated by Stan Swenson and Jim Day of Seattle, Washington
Michelle Esguerra Wilson,
San Marcos, Texas
Healing Waters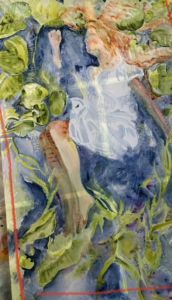 From Broken Butterflies with gold leaves embedded in their wings to figures of women gazing into horizons, Michelle's work explores healing. The San Marcos River is a place she frequents to ground herself and feel the cold energy calm her. At times, she simply places only her feet in, closes her eyes, and listens to the water splash as she meditates. Other times she completely submerges herself to drown thoughts from the outside world. As one of the flood victims in 2015, Michelle respects the power of the river's force, but also the rejuvenation and rebirth that comes from its will.
Jim Day & Stan Swanson fabricated her kite.
Darin Wood,
San Marcos, Texas
Wood Cut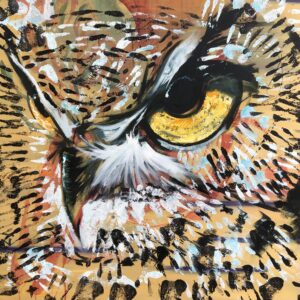 Darin Wood is currently exploring abstraction as an existential totem that simultaneously personifies and defies change, life, and death.
The work is in a realm of the surreal and creates in the viewer a sense of opiate adjacency that transports them into a hypnotic, floating experience much like a temporoparietal holiday to disassociate from the present and see the remote.
Jim Day & Stan Swanson fabricated his kite.
Kitemakers
We honor and appreciate every kite fabricator that accepted the challenging job of turning each Sacred Springs artist's conception into a well-flying art kite. Thank you to every one of you that stepped up to make the nearly impossible, possible. It could not have happened without you.
Steve Anderson

Wheaton, Illinois
Kite flying and making were a hobby from Steve's youth. He returned to the pastime with his son about a dozen years ago, after not flying kites for more than two decades. Steve has been making kites for the last eight years or so, specifically to create art that can fly in the sky. He currently makes single-line kites and quad-line sport kites, using vibrant colors and patterns. In March 2022, Steve won First Place for kite making in the Multiline Sports category at the Cherry Blossom Kite Festival in Washington DC with the quad line kites created in collaboration with his son. Steve is also a member of Team 180Go!, a quad-line sport kite team that performs at kite festivals in the USA, Canada, and Europe. Steve joined this project to contribute his skills to create visual art and to celebrate the importance of preserving our natural world.
Hunter Brown

Wilmington, NC
Hunter has worked in the kite industry since he was 12 years old and has traveled as a demo flier, owned a kite store, and co-founded a boutique kite brand. He has been building kites for over 30 years and loves the process of taking raw materials, turning them into functioning kites, and seeing them fly. Hunter is the current operator of Focus Kite Designs building specialty custom hand-built kites. Most recently he built a series of kites that have been featured in over 1000 performances in Disney's Kite Tails live show in Disney's Animal Kingdom theme park.
Jerimy Colbert

Lincoln City, Oregon
Jerimy has been building beautiful kites for years and is an active member of the Oregon Kiting community, frequently attending kiting events on the beaches of the west coast.
Ken Conrad & Suzanne Sadow

Seattle, Washington
A variety of kites in this exhibition were created with fabric printed by Ken Conrad and Suzanne Sadow of Great Winds Kite Company. Ken and Suzanne are longtime kitemakers who practice the craft of digital dye sublimation, a.k.a. heat transfer printing. They have developed techniques for making prints true to the original design and color when the kites are in the sky, backlit by the sun. While printing art they create for the kites they make, they also get great satisfaction enabling artists and kitemakers to have their own remarkable range of art printed on kite fabrics.
Mitch Cordover

Chesterfield, Missouri
Mitch has been making kites and teaching kite-making for two decades.
He is the winner of several awards in the American Kitefliers Association Kite Making
Competition. His fighter kites and boldly designed single-line sails are created with the widest wind range in mind. He has flown his kites on
every continent of the globe, including Antarctica.
Jim Day & Cat Gabrel

Seattle, Washington
A kitemaking team with a love for kites, Jim Day is a boat builder and cabinet maker by trade and has been collaborating with his partner Cat Gabrel to build exceptional flying artworks for decades. Cat owns a small kite shop in Oklahoma, where she makes and sells kite-making kits. She has been making and sharing the joyful experience of flying kites all her life.kitekits.com
Chris Hanson

Bellingham, Washington
Chris was introduced to kite-making by the late Ron Button nine years ago. Starting with Tyvek and wood dowels, he made sleds and simple box kites. Ron bugged him until he got a sewing machine and started working with Ripstop. He hasn't slowed down since.
"I really enjoy all three phases of kite making: The design process, the creation process, and of course, the flying. I can always justify the costs of materials by comparing it to the cost of therapy!" Three years ago he bought a 3D printer and started making kite fittings. It has really eliminated the restrictions of existing kite fittings. He frequently gets the high structure score at the AKA Nationals for his 3D printed fittings. Chris enjoys kite-making competitions, winning multiple blue ribbons at WSIKF and AKA Nationals. He won the AKA Grand National Championship in 2018. Chris taught kite making at Fort Worden, the Oregon Kitemaker's Retreat, U-MAKE, and the Maryland Kite Society Retreat. He also does kid's kite making at the Bellingham Makerspace.
Sam King

Anacortes, Washington
Sam King is a 21-year veteran of the police department. He started building kites in the late '90s. Sam and Mom Alexa, whose work is also featured in this exhibit, are the co-winners of the 2021 American Kitefliers Association Lee Toy Award for kite artistry. This kite is framed as a Della Porta, a 16th-century Italian design that flies flat. Modern adaptations include the looped 'fuzzy' tail, as seen here.
Cliff & Gerry Pennell

Olympia, Washington
Cliff and Gerry Pennell began constructing kites in 1991. They can be found flying their kites on west coast beaches and traveling internationally and competing with their collection of over 250 kites. Gerry is the Vice President of the Fort Worden Kitemakers Conference and has given many new kite flyers their wings through teaching sewing classes and retreats for over 25 years. Cliff has also taught classes at national retreats to empower and educate kite flyers.
Cliff can be heard saying, "One, two, three, Bear in the air," at various local kite festivals each summer. The Pennells conduct the Teddy Bear Drop, which is enjoyed by many children at each festival. Cliff and Gerry are an inspiration and encourage all who fly a Kite to "Touch the Sky".
Drake Smith

Billings, Montana
Drake got involved in making kites about 30 years ago. The combination of material science, tensile strength, glues, carbon graphite, and the flight was irresistible to him. He specializes in making complicated, curved ten-cell kites. For the Austin exhibit, he volunteered to fabricate all of John Mata's Sacred Springs kites and also Christy Pohler's 'Lady Bird's Legacy', a complex and challenging kite shape. After a lifetime of living on the East Coast, he now resides in Montana.
Stan Swanson

Seattle, Washington
Stan Swanson is the founder of Condor Kites and currently works with Prism Kites. With a lifetime of experience building kites and things that fly he crafts incredible kites with love and precision.