The Regional Conservation Fund is a project proposed by the Wimberley Valley Watershed Association to the Hays County Parks and Open Spaces Advisory Commission.  The project proposes a fund with $20 million to permanently protect priority parcels of 20 acres or more in the Jacob's Well Groundwater Management Zone and the Regional Recharge Study Area. WVWA envisions match funding from additional sources to conserve a total of 5,330 acres over five years worth $40 million.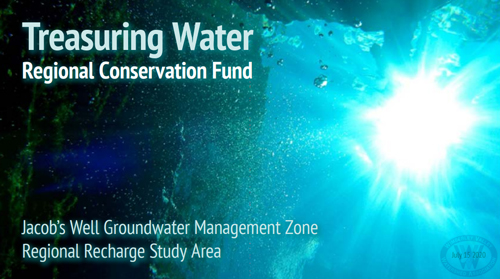 Project Information Form Addendum (5-page pdf)
Our proposal adds 5,330 acres conserved land, providing diverse recreation reflective of differences with each identified parcel of open space. Systematic acquisition will maximize connectivity, and increase flood mitigation and groundwater recharge, allow woodland and grassland habitat protection, and preserve scenic view sheds.