FOR IMMEDIATE RELEASE: April 16, 2020
WIMBERLEY, TX — On April 15 chief federal Judge Brian Morris of the Montana District issued an opinion that revoked the permit under which the Keystone XL oil pipeline is being constructed for violation of the Endangered Species Act (ESA). The opinion may affect the use of Nationwide Permit 12 across the United States.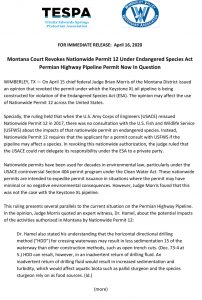 Specially, the ruling held that when the U.S. Amy Corps of Engineers (USACE) reissued Nationwide Permit 12 in 2017, there was no consultation with the U.S. Fish and Wildlife Service (USFWS) about the impacts of that nationwide permit on endangered species. Instead, Nationwide Permit 12 requires that the applicant for a permit consult with USFWS if the pipeline may affect a species. In revoking this nationwide authorization, the judge ruled that the USACE could not delegate its responsibility under the ESA to a private party.
Nationwide permits have been used for decades in environmental law, particularly under the USACE controversial Section 404 permit program under the Clean Water Act. These nationwide permits are intended to expedite permit issuance in situations where the permit may have minimal or no negative environmental consequences. However, Judge Morris found that this was not the case with the Keystone XL pipeline.
This ruling presents several parallels to the current situation on the Permian Highway Pipeline. In the opinion, Judge Morris quoted an expert witness, Dr. Hamel, about the potential impacts of the activities authorized in Montana by Nationwide Permit 12:
Dr. Hamel also stated his understanding that the horizontal directional drilling method ("HDD") for crossing waterways may result in less sedimentation 15 of the waterway than other construction methods, such as open trench cuts. (Doc. 73-­‐4 at 5.) HDD can result, however, in an inadvertent return of drilling fluid. An inadvertent return of drilling fluid would result in increased sedimentation and turbidity, which would affect aquatic biota such as pallid sturgeon and the species sturgeon rely on as food sources. (Id.)
The concerns expressed by Dr. Hamel in a Montana courtroom are exactly what occurred in Blanco County on March 28 when the drinking water to at least three rural homes was contaminated by the drilling fluids being used by the Permian Highway Pipeline. There are also as many as endangered species at risk along the Permian Highway Pipeline including the Barton Springs salamander and the Golden-­‐cheeked warbler.
In its Notice of Intent to sue, TESPA specifically called out discharges in violation of the Clean Water Act, which included discharge without a permit. TESPA believes that with Nationwide Permit 12 now vacated for every purpose, it can no longer be used by Kinder Morgan. Further, it is TESPA's position that Kinder Morgan must now apply for an individual permit where individual environmental and endangered species review is required, including completion of an environmental impact statement (EIS).
Quote from David Baker, WVWA executive director:
"We have always believed that the use of the nationwide permit process by Kinder Morgan allowed important issues such as endangered species review and a full-­‐blown EIS to be circumvented. The court decision affirms that position. We want the Corps to now require an individual permit and prepare a full EIS."
Quote from Patrick Cox, PhD., TESPA executive director:
"The Court's ruling is simple. The government itself, the U.S. Army Corps of Engineers, must enforce our existing laws to protect the water upon which we depend for life. We cannot drink profits if the government allows companies to poison groundwater or an aquifer. We expect corporations and our regulatory agencies to follow the rule of law and protect our private property rights, our aquifers and ground waters that are vital to all of us."
Attachments:
Press Release package with Order by Brian Morris, Chief District Judge, United States District Court
Media Contacts:
Useful Links: