Bob Mud is an artist, poet, and activist who creates from his heart.  He lives in a small community in Brisbane, Australia where he offers programming that builds community, teaches alignment with nature, and helps people tap into their creativity as a means to connect, heal and inspire.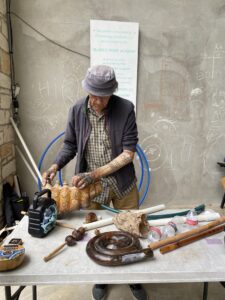 Bob has dedicated his life to environmental advocacy and stewardship through deep service to the earth and its people.  Weekly, Bob leads and actively participates in after-school art and music programming. He has traveled the world to share his potent and embodied message of conservation with others.

He creates art exclusively from natural and found materials from the environment and ignites a passion in his students, young and old, to love and respect nature and adopt an ethos of regenerative stewardship. 

This spring, Bob came to Wimberley as Art4Water's first artist-in-residence to commune with the land and stressed water system here in the Texas Hill Country. He came to share a message of enduring stewardship with our community. While here, he hosted an experiential art workshop for the students of Blanco River Academy and Tiny Trees Preschool.  Over thirty students and teachers gathered to participate in the hands-on workshop to produce earth art. The class included painting with a locally sourced palette of earthen 'mud paints', natural clay hand building, and musical instruments made from found materials.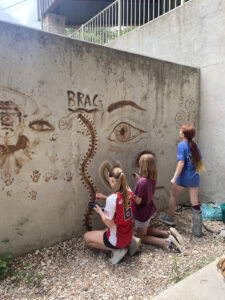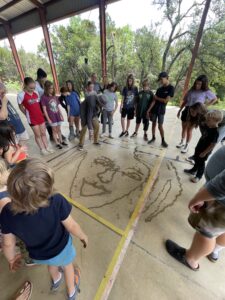 Many special thanks to Bob Mud, Kristie Kimbell from Blanco River Academy, Robin Weeks from Tiny Trees, and David Baker and the Watershed Staff for a remarkable and memorable day of creativity and inspiration.  We look forward to more collaborations with Bob Mud and other artists in future programming for Art4Water.