After 32 days of zero flow this year, Jacob's Well finally started flowing again! With a total of about 3/4 of an inch of rain this week, a little recharge and less groundwater pumping goes a long way! It's a happy thing to see, but springflow is less than 0.5 cfs and will likely subside quickly without more rain. Link:  Real-time data from the USGS Jacob's Well gauge.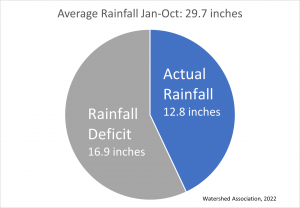 We won't see recovery in aquifer storage, spring flow, or creek flow without rain.  Looking at the US Climate Data historic monthly average rainfall totals for Blanco, by the end of October there are usually 29.7 inches of rain.  As of October 28, the weather station at the Watershed Association near Jacob's Well has recorded a scant 12.75 inches of actual rainfall.  The Wimberley Valley area is about 16.9 inches below the average rainfall for this time of year, which impacts aquifers, springs, creeks, and rivers. Please keep conserving water!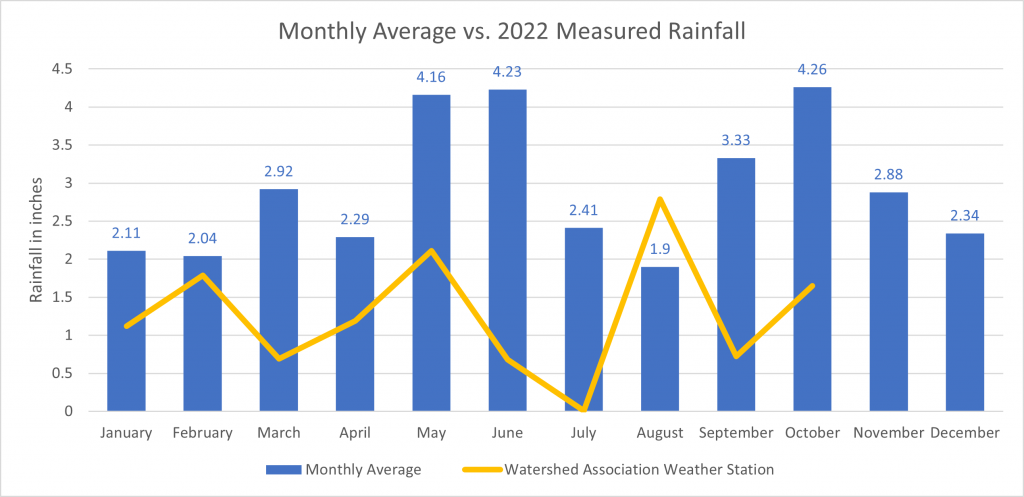 Monitor wells are at record lows, and many well owners are having to rely on hauled water.
Drought recovery will require over 17 inches of rain over the contributing and recharge zones of the Trinity Aquifers.  The prolonged hot and dry conditions have affected soil moisture, groundwater storage in aquifers, and flow from springs and creeks, which all have different response times to rainfall. Dry soils will likely soak up the first inch or two to the benefit of trees, grasses, and plants. After soils are saturated, they'll allow runoff to fill creeks and rivers, which funnel water into the groundwater system through karst features like caves, fractures, and sinkholes. Water levels in the Middle Trinity Aquifer in western Hays County will recover more quickly than the Lower Trinity Aquifer, which is deeper and has a confining layer that generally separates the two aquifers. Once water levels in the Middle Trinity Aquifer rise above spring elevations, spring flow will increase and supply needed baseflow to boost flow in streams like Cypress Creek and the Blanco River. Once Jacob's Well reaches a 10-day average above 6 cubic feet per second, the Hays Trinity Groundwater Conservation District will remove the drought declaration.
Please continue to conserve. Coordinated water conservation is key to preserve groundwater availability, spring flow, and water supplies.  All of the Hill Country is experiencing rainfall deficits which leading to pronounced drought conditions in our area.
Most communities in the Hill Country are groundwater-dependent, so drought conditions are particularly troublesome for water supplies, recreation-based tourism, and springs and rivers.  Please follow groundwater district drought restrictions and local water provider drought water use guidance.  Limit outdoor irrigation and conserve water indoors.  Identify and fix leaks.  Conserve water to prolong water supplies until rainfall can replenish our aquifers. While we can't control the weather, we can conserve water and look for innovative ways to use alternate supplies (like site-harvested supplies—rainwater and AC condensate) to lessen impacts of pumping. While each aquifer behaves differently, all groundwater is limited and deserves to be used wisely. For more information on native landscapes, rainwater harvesting, leak identification tips and more, visit the Home Owner Resource page.
No matter what area agencies call their drought declaration, coordinated water conservation is important to preserve groundwater availability, spring flow, and water supplies.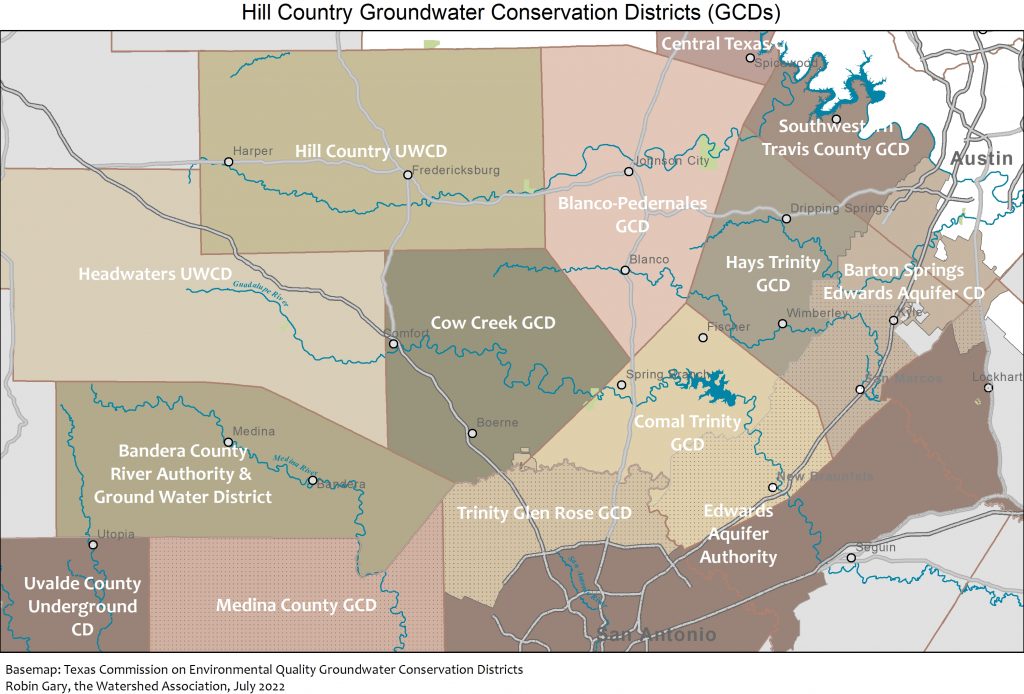 [Updated 10/28/2022]