Drought Conditions Return
April 2022 Hydro Report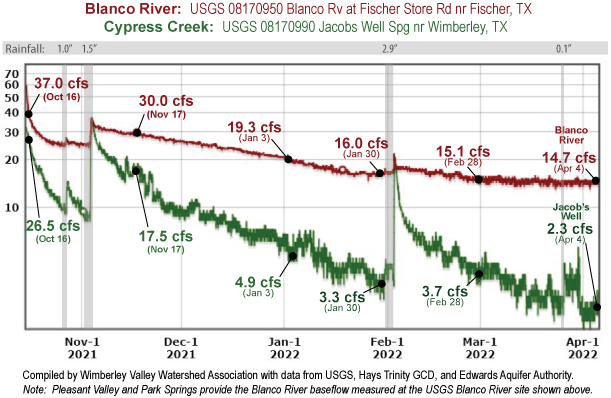 Middle Trinity spring flow in the Blanco River basin has been generally on the decline since November 2021, with only a small recharge event at the end of February.  Drought conditions have returned.  Jacob's Well spring, and therefore Cypress Creek, is fluctuating between 2 and 3 cubic feet per second (cfs).  Baseflow from Pleasant Valley Springs and Park Springs measured at the Blanco River at Fischer Store Bridge is just below 15 cfs. This low spring flow indicates groundwater storage is also low.
Middle Trinity groundwater monitor wells like the Hays Trinity GCD's Burnett Ranch well (aka ESD well), Downing well, and Mt Baldy well show declines in water levels recently.  Each one responds relatively quickly to recharge generated by significant rainfall, but despite wet conditions last year, the water levels in these wells are far below average.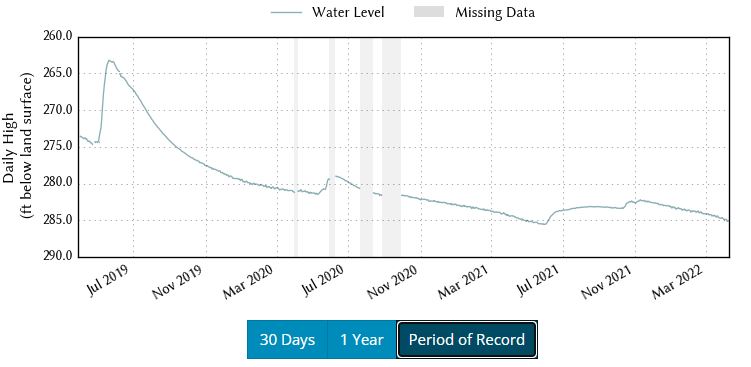 May through September is considered the high-water-use season.  For many homes, outdoor irrigation increases substantially.  Most communities in the Hill Country are groundwater-dependent, so drought conditions are particularly troublesome for water supplies, recreation-based tourism, and springs and rivers.  Currently, the Hays Trinity GCD
While we can't control the weather, we can conserve water and look for innovative ways to use alternate supplies (like site-harvested supplies—rainwater and AC condensate) to lessen impacts of pumping. While each aquifer behaves differently, all groundwater is limited and deserves to be used wisely. For more information on native landscapes, rainwater harvesting, leak identification tips and more, visit the Home Owner Resource page.
No matter what area agencies call their drought declaration, coordinated water conservation is important to preserve groundwater availability, spring flow, and water supplies.
[Updated 4/4/2022]