The Watershed Association's Winter Program Updates provides a snapshot of the wide range of our impactful programs and initiatives to protect land and water and connect individuals and organizations. Our programs focus on the long-term health and sustainability of the communities we serve. From land conservation and restoration to watershed education, from water quality monitoring to making scientific research relevant, and from task forces to public comment, the Watershed Association continues to be a regional leader in land and water conservation, scientific research, environmental planning, policy, and regenerative education.  Enjoy the 2022 Watershed Association Winter Program Updates!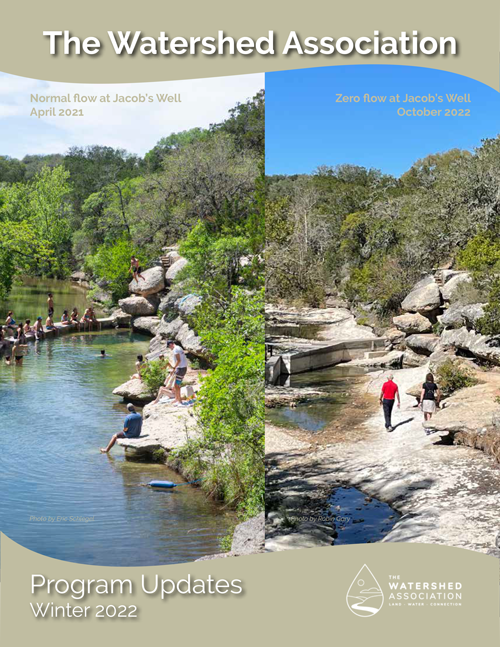 Our efforts and skills are amplified through collaboration with many partners.  We are proud to be part of Hill Country Conservation Network, the Cypress Creek Watershed Protection Plan, and collaborate with so many talented scientists, policy makers, and stewards.  From core conservation, policy, and science to our Texas Brewshed Alliance and Art4Water programs, all of us at the Watershed Association feel strongly that by bringing awareness to the connection between the land, water, and people, we create partnerships and expand conservation beyond the measure of acres and dollars to the measure of social and individual well-being.
Please support the Watershed Association so we can continue this important work in the months and years to come. We can't do what we do without your support! Here are a few ways to boost our efforts:
Donate any time of year to support the Watershed Association's programs.
Select the Watershed Association (still listed as the Wimberley Valley Watershed Association) as your charitable organization of choice through Amazon Smile. As you shop, Amazon will donate 0.5% of the sale to the Association.
Share our collective progress and impact with your networks! Invite others to subscribe to the Watershed News to keep up with programs, news, and events.