The work of the Watershed Association is ever more important as droughts, increases in pumping, and rapid development threaten the Hill Country's finite water resources.  As a non-profit, we rely on your support to strengthen our land conservation, watershed protection, science, art, and education efforts.  Please consider a donation this Giving Tuesday to support your Watershed!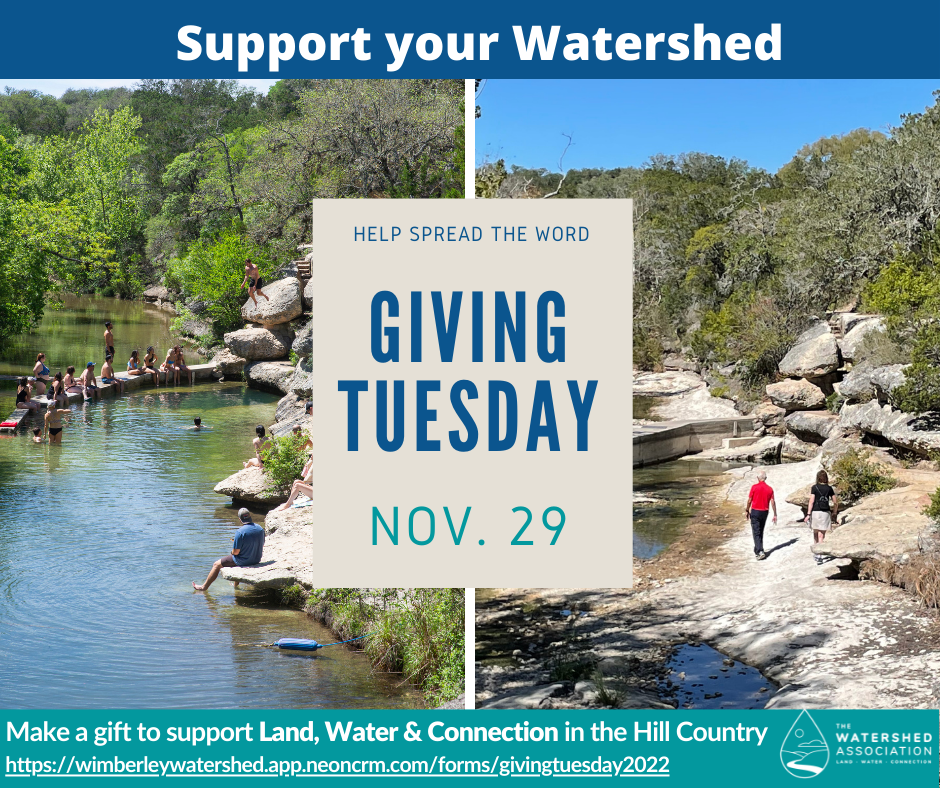 Protecting the iconic Jacob's Well spring and the land and water of the Hill Country has been our focus for over thirty years. The crystal clear flowing spring is a timeless source of inspiration and a symbol of gratitude for the gift of water. Water truly connects us all. Jacob's Well serves as a reminder of the Hill Country's natural beauty and the delicate balance we as a community must achieve to avoid spoiling what we love. This year the drought and over pumping of the Trinity aquifer caused by continued growth in the critical recharge zone has caused Jacob's Well to stop flowing for over 30 days, the longest period of zero flow in history.
The relentless and excessive heat, drought, and wildfires this past summer had a devastating impact on wildlife, aquatic recreation, and the local tourism economy. The Jacob's Well Natural Area and Blue Hole Regional Park were forced to close access for public swimming because of lack of flow and concerns of water quality.
Amid all the environmental challenges we have faced this last year, our programs have expanded, more acres of land have been preserved, and our policy and advocacy initiatives have increased as we have deepened our commitment to diversity, equity, and inclusion and community outreach through new programming for Art4Water. We continue to build on our success implementing One Water building strategies locally in order to have a greater impact across the region. The desire to execute our mission has never been greater in the face of monumental challenges.