In the last weeks of August, Wimberley received between 1.5-2 inches of rain. It's a refreshing change to the persistent hot, dry weather this summer. Richard Shaver, Director of the Wimberley Parks and Recreation Department, asked a wise question: "What does recovery look like?" With Jacob's Well basically not flowing (see photo by David Baker above, taken 8/23/22), sections of Cypress Creek are completely dry. There is no inflow or outflow downstream at Blue Hole. Monitor wells are at record lows, and many well owners are having to rely on hauled water.
So how much rainfall would it take to return to non-drought conditions? Central Texas normally receives 33 inches a year with 22 inches coming by the end of August. As of August 26th, there have been 9.73 inches of rainfall at the Watershed Association office near Jacob's Well, and 11.34 inches in downtown Wimberley (
Water Monitoring page
). Depending on how much rain falls over the last week in August, there will still likely be a substantial rainfall deficit.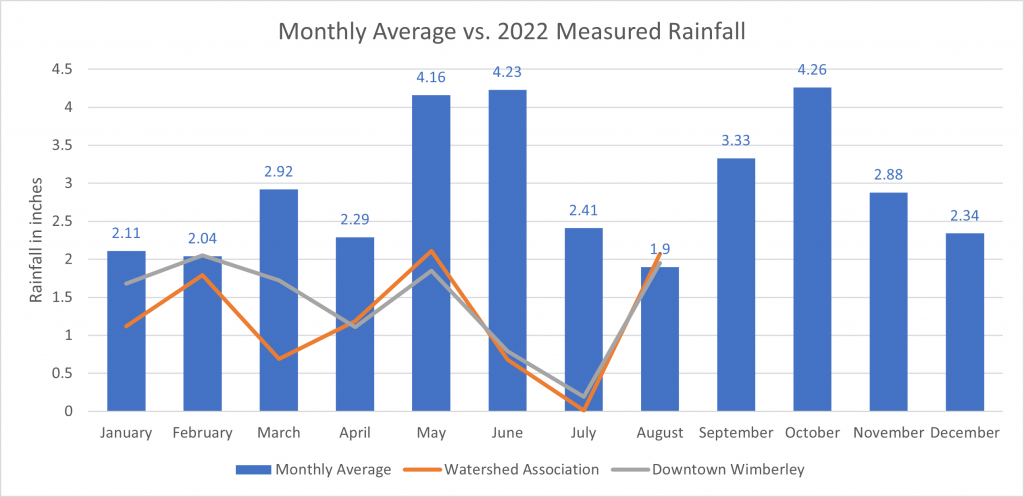 The prolonged hot and dry conditions have affected soil moisture, groundwater storage in aquifers, and flow from springs and creeks, which all have different response times to rainfall. Dry soils will likely soak up the first inch or two to the benefit of trees, grasses, and plants. After soils are saturated, they'll allow runoff to fill creeks and rivers, which funnel water into the groundwater system through 
karst
 features like caves, fractures, and sinkholes. Water levels in the Middle Trinity Aquifer in western Hays County will recover more quickly than the Lower Trinity Aquifer, which is deeper and has a confining layer that generally separates the two aquifers. Once water levels in the Middle Trinity Aquifer rise above spring elevations, spring flow will increase and supply needed baseflow to boost flow in streams like Cypress Creek and the Blanco River. Once Jacob's Well reaches a 10-day average above 6 cubic feet per second, the Hays Trinity Groundwater Conservation District will remove the drought declaration.
The simple answer to what drought recovery looks like is about 8-12 more inches of rain–hopefully not all at once–to get back to the average for the year. The USGS, groundwater conservation districts, and Watershed Association staff will be tracking rainfall, flow, and water levels closely to monitor drought recovery (hopefully)! There's no doubt that some rain is better than no rain! This week has been a good start on the road to drought recovery, but it will be a long road to bring groundwater storage, sustained spring flow, and creek flow back to healthy levels.
Please continue to conserve. Coordinated water conservation is key to preserve groundwater availability, spring flow, and water supplies.
All of the Hill Country is experiencing rainfall deficits which leading to pronounced drought conditions in our area.
May through September is considered the high-water-use season.  For many homes, outdoor irrigation increases substantially.  Most communities in the Hill Country are groundwater-dependent, so drought conditions are particularly troublesome for water supplies, recreation-based tourism, and springs and rivers.  Please follow groundwater district drought restrictions and local water provider drought water use guidance.  Limit outdoor irrigation and conserve water indoors.  Identify and fix leaks.  Conserve water to prolong water supplies until rainfall can replenish our aquifers. While we can't control the weather, we can conserve water and look for innovative ways to use alternate supplies (like site-harvested supplies—rainwater and AC condensate) to lessen impacts of pumping. While each aquifer behaves differently, all groundwater is limited and deserves to be used wisely. For more information on native landscapes, rainwater harvesting, leak identification tips and more, visit the Home Owner Resource page.
No matter what area agencies call their drought declaration, coordinated water conservation is important to preserve groundwater availability, spring flow, and water supplies.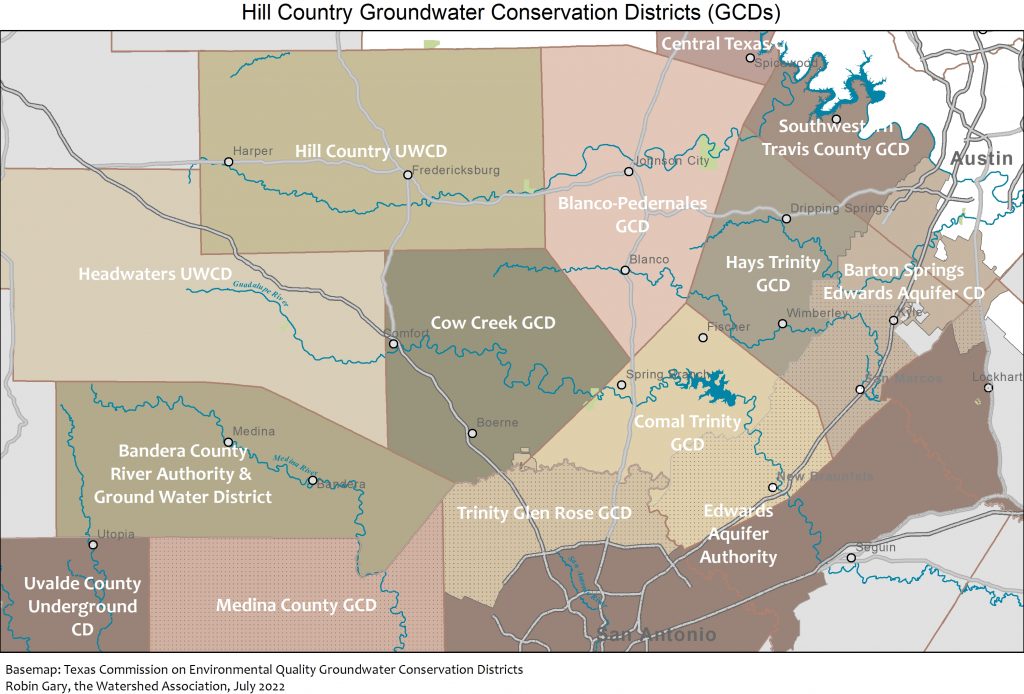 [Updated 9/13/2022]