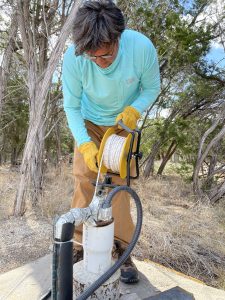 Today, staff accompanied a Hays Trinity Groundwater Conservation District hydrogeologist to measure water level changes in wells near Burnett Ranches.  A 2021 Neighborhood Site Visits program documented water levels in wells in four areas near the Regional Recharge Study Area (along the Blanco, generally upstream of Fischer Store Rd) and in the Jacob's Well Groundwater Management Zone.
Today, we measured water levels in nine wells that participated in last year's site visits in and around Burnett Ranches.  Middle Trinity Aquifer water levels in six wells were about 6-7 feet lower than they were last year.  The HTGCD ESD Monitor Well near Burnett Ranch Road and RR 2325 shows a 6-foot decline from last year's water level–a good reference for Middle Trinity well owners.
The two Lower Trinity Aquifer wells showed a 15-20 foot decline compared to last year's water levels.
Check water levels near you on the District's Monitor Well map: Water Level Monitoring – Hays Trinity Groundwater Conservation District (haysgroundwater.com)
At this Thursday's HTGCD meeting, staff will likely discuss groundwater trends throughout the District during the monitor well and science reports.  Groundwater levels, spring flow, and creek flow are very low.  To preserve existing water supplies until wet weather returns, please conserve water by restricting or stopping outdoor irrigation.  The HTGCD declared Emergency Drought with a 40% reduction in pumping on Saturday.