June 2022 Hydro Report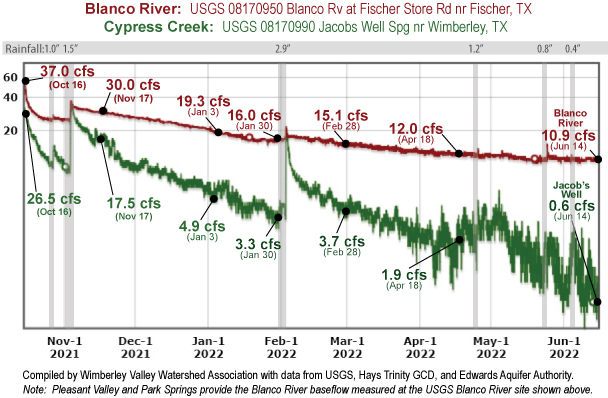 Springs and monitor wells in both the Trinity and Edwards Aquifers show significant drought impacts. Jacob's Well spring flow average is less than 1 cubic feet per second (cfs).  Evident in the hydrograph above, daily fluctuations in spring flow are due to local effects of groundwater pumping. Baseflow provided by Pleasant Valley Springs and Park Springs on the Blanco River is at the lowest recorded flow since the USGS monitoring site was established in 2016.  Low spring flow translates to low flow in area creeks and rivers.  The Hays Trinity Groundwater Conservation District has set a 30% drought curtailment in the Jacob's Well Groundwater Management Zone and 20% drought curtailments in the remainder of the District to prolong availability of limited groundwater supplies.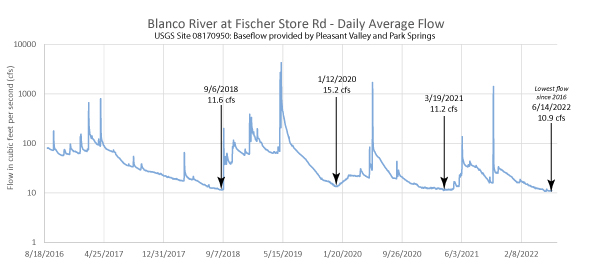 Edwards Aquifer springs and monitor wells are also showing drought impacts.  Barton Springs 10-day average flow is 36 cfs (2 cfs below the Barton Springs Edwards Aquifer Conservation District Stage II Alarm Drought threshold); average daily spring flow has declined 10.4 cfs in the last month.  San Marcos Springs flow is 104 cfs and has declined 24 cfs in the last month.  Comal Springs flow is 129 cfs (21 cfs below the Edwards Aquifer Authority Stage 3 Drought threshold).
All of the Hill Country is experiencing rainfall deficits which has lead to pronounced drought conditions in our area.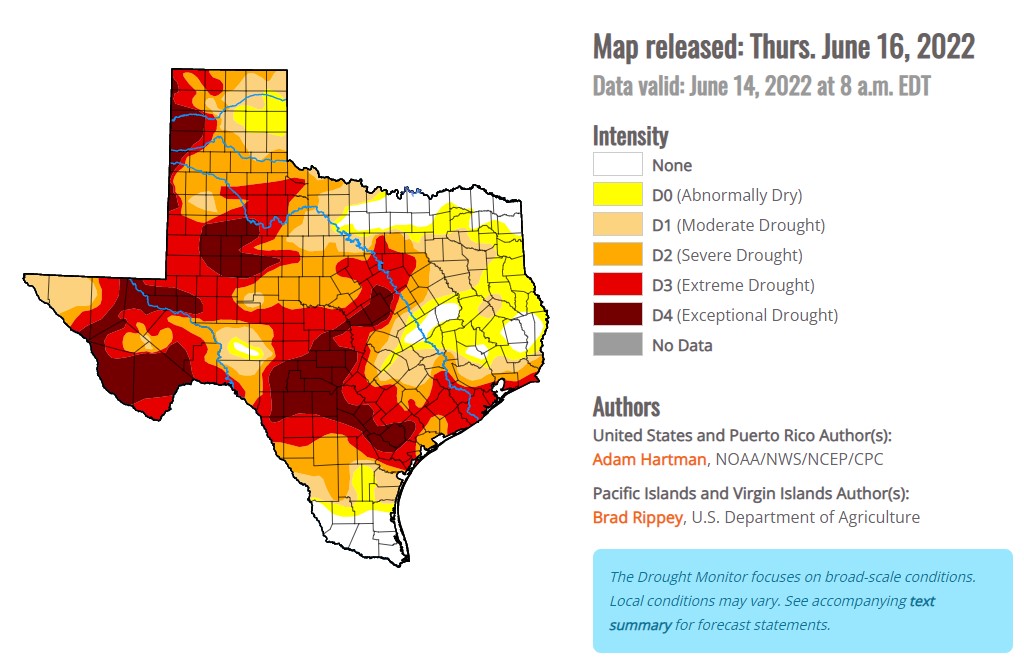 May through September is considered the high-water-use season.  For many homes, outdoor irrigation increases substantially.  Most communities in the Hill Country are groundwater-dependent, so drought conditions are particularly troublesome for water supplies, recreation-based tourism, and springs and rivers.  Please follow groundwater district drought restrictions and local water provider drought water use guidance.  Limit outdoor irrigation and conserve water indoors.  Identify and fix leaks.  Conserve water to prolong water supplies until rainfall can replenish our aquifers. While we can't control the weather, we can conserve water and look for innovative ways to use alternate supplies (like site-harvested supplies—rainwater and AC condensate) to lessen impacts of pumping. While each aquifer behaves differently, all groundwater is limited and deserves to be used wisely. For more information on native landscapes, rainwater harvesting, leak identification tips and more, visit the Home Owner Resource page.
No matter what area agencies call their drought declaration, coordinated water conservation is important to preserve groundwater availability, spring flow, and water supplies.
[Updated 6/16/2022]