February 2022 Hydro Report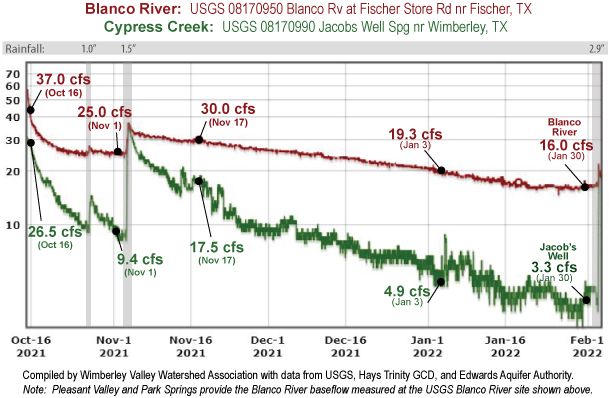 The last significant rainfall was nearly three months ago.  During the dry winter months, spring flow at Middle Trinity springs–Jacob's Well, Pleasant Valley, and Park Springs–have been on the decline.  Despite frigid temperatures, the January 31 and February 3 rains have boosted streamflow in Cypress Creek and the Blanco River and generated much needed recharge.
Groundwater levels and spring flow fluctuate through time. Rainfall and pumping are the biggest factors influencing aquifer conditions. The Texas Water Development Board, in conjunction with many groundwater conservation districts, maintains monitor wells throughout the state (the data are publicly accessible on this web link). The water level in the Mt. Baldy monitor well (Middle Trinity) is generally recovering with the help of November rains.  The February rainfall will certainly help groundwater levels.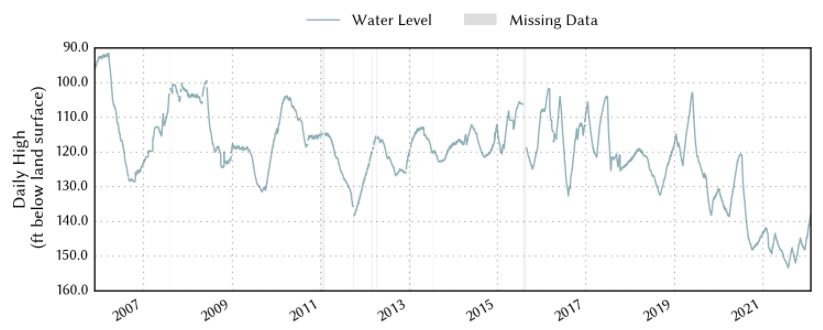 While we can't control the weather, we can conserve water and look for innovative ways to use alternate supplies (like site-harvested supplies—rainwater and AC condensate) to lessen impacts of pumping. Typically, the high water use period extends from May 1 – September 30. Less pumping and continued wet conditions has allowed spring flow and water levels to recover. While each aquifer behaves differently, all groundwater is limited and deserves to be used wisely. For more information on native landscapes, rainwater harvesting, leak identification tips and more, visit the Home Owner Resource page.
No matter what area agencies call their drought declaration, coordinated water conservation is important to preserve groundwater availability, spring flow, and water supplies.
[Updated 2/3/2022]
For updates, useful links, and archived Hydro Reports, visit the WVWA Water Monitoring page.