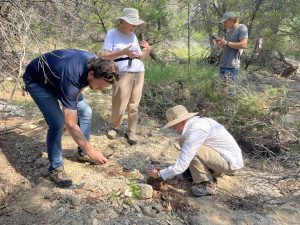 The Jacob's Well Natural Area and Colemans Canyon Preserve are connected biologically, hydrogeologically, and through conservation efforts. We (with a lot of help from our friends) have come a long way with trail building, trash cleanups, green fielding at Colemans, and now we're gearing up for a species inventory to inform restoration work.
WVWA and the Restoration Rangers hosted a mini-Bioblitz using iNaturalist for the June workday.  Many thanks to the 20+ volunteers from the Hays County Master Naturalists, Texas Parks and Wildlife, Hays County Parks Department, Wimberley Parks Department, and City of Austin Water Quality Protection Lands who helped boost observations for the Jacob's Well Natural Area and Colemans Canyon Preserve.  The number of species documented at both properties increased substantially!  Here are the official project stats as of 7/6/2021:

The iNaturalist program is worldwide and crowdsources observations and identification to create a research-grade list of species for projects.  It's free to download and a great way to get more familiar with your wild neighbors.


If you're interested in trying out iNaturalist, here's some unofficial guidance and several official links:
Download iNaturalist on your smartphone and create a profile
Consider downloading Seek by iNaturalist.  As a budding iNatter, this app is a fantastic start on plant and animal id.
Check out the Jacob's Well Natural Area and the Colemans Canyon Preserve iNaturalist projects.  There will definitely be future Bioblitz projects to boost species documentation.
Tips for iNaturalist observations:
Observations are classified as Casual, Needs ID, and Research Grade.  After you upload an observation, the identification is crowdsourced through a network of identifiers.  As the identifiers agree on your observation it moves up to Research Grade.
Take your time to get a good photo or photos.  Get one of the whole plant and multiple angles.  Seed pods and flowers are particularly useful in identification.  Observations can include multiple photos from various angles.
Uploading from the field takes time, but pulls the location from your phone.  And you don't have to remember to upload later.
Be safe and respectful of trails, private property, and park rules.
Many thanks all of you who ventured out and those of you who helped identify from afar.  The Jacob's Well Natural Area and Colemans Canyon mini-Bioblitz was a great success!  It's a treat to share the WVWA Colemans Canyon Preserve with you all!  We are excited about going through the POSAC process to make it an extension of the Natural Area.  As of now, access is limited and it is considered private property.  Stay tuned for other volunteer and guided tour opportunities.