This summer the Watershed Association is collaborating with the Hays Trinity Groundwater Conservation District (HTGCD) and the Comal Trinity Groundwater Conservation District (CTGCD) to provide a limited number of Trinity Aquifer water well visits.  Previous Neighborhood Site Visits have focused on Edwards in the Barton Springs Edwards Aquifer Conservation District and Trinity wells in the eastern portion of the HTGCD.
This year we are focusing on Trinity Aquifer well owners in southwestern Hays County and northern Comal County:
Area 1:  July 20 & 22, Burnett Ranches, Mountain View, Lost Springs
Area 2:  July 27 & 29, Hill Country Ranches, Ledgerock, Pump Station Rd
Area 3:  Aug. 3 & 5, Mustang Valley, Fischer Store Road
Area 4:  July 21 & 28,  Fischer, RR32, Devils Backbone, Horton Preiss Road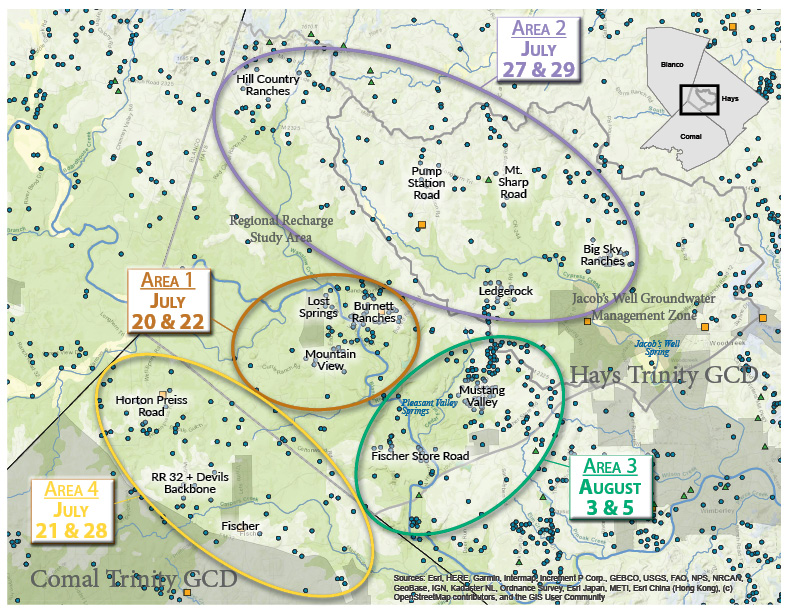 Well owners in the selected areas can sign up online for a limited number of free site visits during which staff will take a water level measurement (if possible) and measure basic water chemistry (salinity, pH, nitrate/nitrite).
There are four slots available in the morning and four additional slots available in the afternoon for the dates shown above.  With your help, in four weeks of visits we could visit approximately 64 wells!  Measurements at so many wells will help provide a good snapshot of aquifer conditions in the area.

All records and results are shared with the participating well owner.  After the visits, staff will compile an overview of results and well owner tips to share with participants and the surrounding groundwater community.
Useful links: