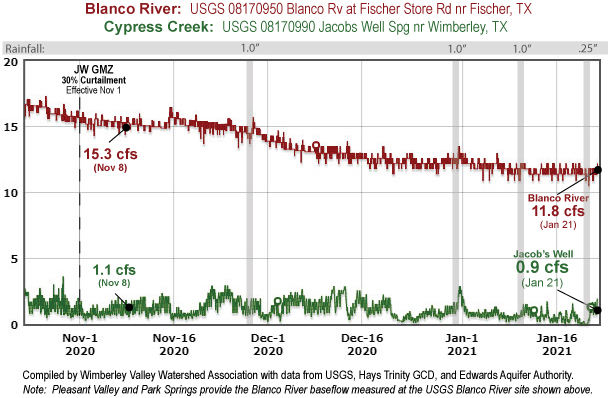 Flow at Jacob's Well is approaching zero.  The USGS daily average for January 21 was 0.9 cubic feet per second (cfs), which is up slightly after rainfall earlier this week.  Flow in the upper reaches of the Blanco River is reliant on baseflow provided by Trinity Springs, and Pleasant Valley and Park Springs only measure about 12 cfs (according to the USGS gage at Fischer Store Rd). Thankfully, the National Weather Service forecast still includes rain in the next few days.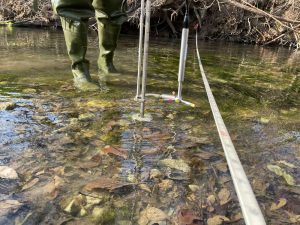 In many ways, we are in the middle of a sneaky drought.  Small rain events have supplied enough water to support surface vegetation, but they haven't generated enough runoff to recharge area aquifers.  With these dry conditions, rainfall is absorbed by exceptionally dry soils.  After the prolonged dry conditions, it will take several consecutive rains to wet the soils before sustained recharge can refill the aquifers.
The EAA weather station near Burnett Ranches measured about 0.22 inches of rain this week and a total of about 2.4 inches of rain over the last 30 days, but given dry soils, this welcome rainfall did little to replenish groundwater supplies.  In western Hays County, baseflow conditions at the Blanco River and Cypress Creek have seen steady declines throughout the fall and winter.  Currently, Pleasant Valley and Park Springs along the Blanco River upstream of the Fischer Store Road provide a measurable baseflow of about 12 cfs.  Jacob's Well spring flow is consistently below 1 cfs (and often close to zero) causing exceptionally low-flow conditions in Cypress Creek.
As flow approaches zero, it is increasingly hard to measure.  With that in mind, the USGS frequently verifies the discharge calculations reported at the gauging sites by taking a manual discharge measurement.  This week, USGS staff visited Jacob's Well to ensure that the gauge is reporting the most accurate data possible.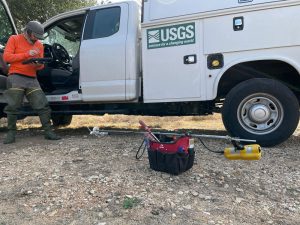 Zero flow is an exceptionally troubling condition; however, watching the flow trends for Middle Trinity springs (presented in the monthly Hydro Reports) and taking action as key thresholds are crossed mean we as a community can slow groundwater decline and extend supplies.  Springs are a key indicator of groundwater storage and the status of our groundwater supply.
Water conservation now will help extend water resources and protect habitat until enough rain events generate meaningful recharge.  Take a moment to tune up your well and clean your pump house and fix pesky drips and leaks. Be part of the collective solution to protect our shared water supply.
Groundwater Drought Declarations
No matter what area agencies call their drought declaration, it's obvious water levels and spring flows have declined to exceptionally low levels. In order to preserve groundwater availability, coordinated water conservation measures are essential.
For links, monitoring site information, and list of archived Hydro Reports, visit our Water Monitoring page.
[Updated 1/22/2021]