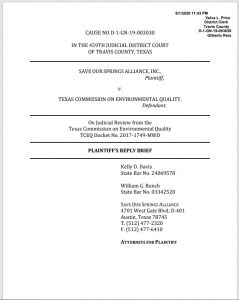 Yesterday, water quality advocates received affirmation that direct discharge in Hill Country streams goes against the Clean Water Act. After the State of Texas 459th District Court Judge Maya Guerra Gamble issued her ruling in the Save Our Springs v TCEQ case contesting the Dripping Springs wastewater discharge permit, SOS attorney, Kelly Davis, announced: "We Won!"
The Judge's ruling reverses the TCEQ's permit and explains that the permit decision lacks adequate water quality protections:
"The Court, after reviewing the pleadings, administrative record, briefing, and argument of counsel, finds that the TCEQ's order approving the City of Dripping Springs's wastewater discharge permit is not supported by the law or substantial evidence and should be reversed. Specifically, the Court finds the following conclusions of TCEQ unsupported by substantial evidence: (1) that the proposed discharge complies with the Agency's 'Tier 2' anti-degradation rule requiring that the City's discharge must not cause more than a de minimis lowering of water quality in Onion Creek unless there is a showing that such lowering of water quality is necessary for important economic or social development; (2) that the proposed discharge would not impair existing high quality aquatic life uses of Onion Creek; and (3) that the information in the public notices of the proposed
wastewater discharge permit sufficiently identified the location of the proposed discharge point"
Bill Bunch, lead SOS attorney, highlighted Judge Guerra Gamble's interpretation of Clean Water Act violations as a key argument against wastewater discharges in Hill Country streams. The Judge's ruling states: "By relying on the City's arguments that the wastewater discharge will 'enrich' Onion Creek, making it more biologically productive, while deeming as irrelevant the effects of the discharge on native aquatic species adapted to the very low nutrient conditions of Onion Creek and other Hill Country streams, the Agency really has turned the Clean Water Act upside down."
"Finally a decision by the court that acknowledges the unique nature of Texas Hill Country Streams and Rivers are no place for discharging nutrient rich effluent into the pristine waters that characterize our Karst region. These waterways recharge our sole source drinking water aquifers and are the backbone of our economy, this ruling is a major step towards protecting the health of our community. Fantastic work by Bill Bunch and the entire Save Our Springs Alliance Team!" said David Baker, WVWA Executive Director.
This ruling is a timely reinforcement of the need for alternate wastewater solutions in the Hill Country. WVWA continues to collaborate with governmental, scientific, and non-profit partners to facilitate research and implementation of beneficial use that can address water shortages while enhancing wastewater treatment solutions.
Useful links: