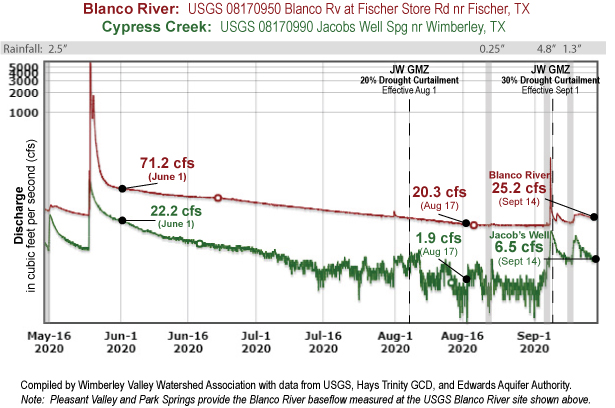 We've seen a series of rain events over the past few weeks, and rivers and springflow have responded!  The Edwards Aquifer Authority weather station on the Blanco River upstream of Wimberley measured over 8 inches of rain in September alone. The rainfall initially generated considerable runoff–seen in the graph above as a high peak flow in both the Blanco River and Cypress Creek.  Soils absorbed a lot of the rainfall and shallow soil moisture levels have increased.
Smaller creeks and tributaries responded during the rain event but stopped flowing shortly after the rainfall. Springflow at Middle Trinity springs (such as Jacob's Well, Pleasant Valley Springs, and Park Springs) increased after the rains, but have begun declining since no additional recharge is making its way into the groundwater system.  These springs continue to provide baseflow in the Blanco River and Cypress Creek. Pleasant Valley and Park Springs' flow is estimated by the USGS gage near Fisher Store Rd. Jacob's Well flow is measured at the USGS gage at the Natural Area.
Water levels in monitor wells have slowed their decline and have plateaued due to input from recharge.  This trend is observed in HTGCD monitor well data (from west to east) in the Burnett Ranch and the Mt. Baldy wells. Review of the BSEACD monitor wells shows the Edwards Aquifer is behaving similarly. Water levels in the Hoskins and Lovelady wells have benefitted from recent rains and declines have slowed and plateaued.  If additional rains add more recharge to the groundwater systems, those water levels could increase.
The Hays Trinity Groundwater Conservation District (HTGCD) declared 30% Drought Curtailment for the Jacob's Well Groundwater Management Zone and 20% Drought Curtailment for the remainder of the GCD effective for September (HTGCD Press Release).  Jacob's Well flow dropped below its drought threshold of 5 cfs for the 10-day average.  The coordinated reduction in groundwater use will help prolong groundwater availability and extend supplies for all users.
To preserve our water resources, conservation is key–especially during these dry times. Outdoor landscape and lawn irrigation can account for up to 60% of household water use. During these dry summer months when springflow and groundwater levels are low, please limit outdoor water use and if you do choose to water outdoors, do it in the early morning or late evening to limit evaporation. Native and drought-tolerant landscaping is paying off now–those plants are accustomed to hot, dry Texas summers. Keep an eye out for leaks, and use water wisely.
---