Artesiana, Episode 1: Malcolm Harris
---
Welcome to something we call "Artesiana." Wimberley Valley Watershed Association (WVWA) presents stories from the watershed, featuring the voices of the history and ongoing efforts to preserve and protect the land, water, and natural heritage of the Texas Hill Country. We begin with Malcolm Harris, president of WVWA and a long-time landowner and advocate for watersheds in the Wimberley Valley.
Ray Don Tilley–a writer and photographer working with WVWA–met with Malcolm and David Baker, WVWA executive director, along with Robin Gary, WVWA managing director, at the roomy, open-air Harris Pavilion on the bank of Cypress Creek. We talked on July 3, the eve of Malcolm's first visit with his family to Wimberley in 1941, when his mother sought to purchase Camp Waloa. On that day, the water was at flood stage, but she was impressed, and would own and run the camp for many years.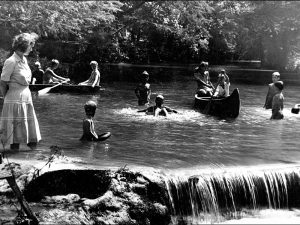 Malcolm recalls his time as a boy, growing up working at the camp, enjoying Cypress Creek, doing chores, and caring for a stable of horses. He brings us to the present, too, through his relationship with David, first to preserve what is now Cypress Creek Nature Trail and Preserve and later to win control of the parcels that became Jacob's Well Natural Area. Malcolm even chronicles the origin of a certain 1920s-era dive helmet.
In considering his legacy, Malcolm delved into the struggles to preserve well flow and the volume of Cypress Creek. His advice to landowners for riparian principles and the value of conservation easements is timely in an era of rapid growth. He describes great joy in the creation earlier this year of the Jacob's Well Groundwater Management Zone, and honors the legacies of his mother, Sada, and past WVWA president Jack Hollon.
Malcolm and David end with a peek at the new Blue Hole Primary School, which will be the first One Water school in Texas. It's a forward view, and a nod to the positive future possible for the very generation educated in the school, and beyond.
If you enjoy what you hear, please share Artesiana on your social media, and rate and review it on iTunes. And if you have someone you would like us to feature in a future episode, please pass their name along: artesianapodcast@gmail.com.
[Download Camp Waloa brochure as pdf,  brochure courtesy of Marti McIntire]